Today in Pats History: Original Patriot Walt Cudzik
Greg M. Cooper - USA TODAY Sports
Today in Pats History
Original Patriot Walt Cudzik​
Happy birthday to Walt Cudzik, who would have been 88 today
Born February 21, 1932; from Chicago (1932-2005)
Patriot center, 1960-1963; uniform #54
Walt Cudzik joined the Patriots in their inaugural season and played in every game from 1960 to 1963. That includes the Pats first postseason game when the team defeated Buffalo for the AFL East title as well as the 1963 AFL Championship Game versus San Diego. Walt was named to the UPI 1st Team All-AFL in 1960 and was the Pats offensive team captain in 1963.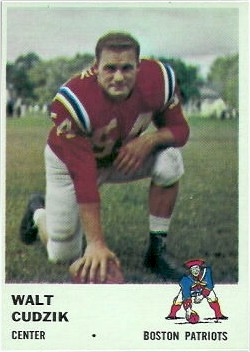 By 1964 competition for rookies had heated up between the AFL and NFL. Holy Cross center Jon Morris was drafted by both Boston and Green Bay. The All American quickly rejected Vince Lombardi's initial contract due to its meager salary, calling it 'a joke'. Mike Holovak responded with a superior two-year no-cut deal that included a new Pontiac convertible. The Packers matched that offer, then Holovak guaranteed Morris he would start at center from day one. Lombardi refused to match those terms, and Morris signed with the Patriots.
Shuffled off to Buffalo
As a result the Patriots had one too many starting centers on the roster. Therefore Holovak traded 32 year old Walt Kudzik without concern that he would start for a division rival and contender. In the long run the move worked out fine. Morris had a career that put him on the AFL All-Time Team and the Pats Hall of Fame. The short term outcome was different.
The 1964 AFL East title came down to the final game of the regular season. The Chargers were not nearly as good as they were the previous season. This meant that single game between the Pats and Bills would likely determine the '64 league champion. Cudzik centered a Buffalo offense that was the best in the league in '64. The Bills came out on fire and beat the Patriots, then took care of business a week later against San Diego. Ten years after he began playing professional football Walt Cudzik was an important part of a championship team. That would be his final game of pro football.
Following his football career Walt Cudzik earned a law degree, and practiced as an attorney until his retirement in 2002.
Before proceeding to the remainder of today's birthdays it should be noted that on February 21, 2008 the Patriots promoted wide receivers coach Nick Caserio to the position of Director of Player Personnel.
Terry Allen
Happy 52nd birthday to Terry Allen
Born February 21, 1968 in Commerce, Georgia
Patriot RB, 1999; uniform #22
Signed to a two-year contract on August 27, 1999
The Patriots were in dire straits at running back in 1999. One year earlier Curtis Edwards had departed for greener pastures with the Jets. Robert Edwards had a spectacular rookie season, then had a freak life threatening injury playing volleyball at a Pro Bowl event. That left them with career backups Lamont Warren and Jerry Ellison and an untested 5'8, 197-pound rookie named Kevin Faulk to carry the ball.
Terry Allen vaulted from a ninth round pick in 1990 to Herschel Walker's replacement two years later in Minnesota, with 15 touchdowns. From 1995-96 Allen had 3,088 yards from scrimmage and scored 32 touchdowns with Washington. Due to overuse – he had 748 touches in those two seasons – his body wore out. Ankle injuries limited Allen to 20 games in the two seasons prior to arriving in Foxboro, with six rushing touchdowns.
Allen played in all sixteen games with thirteen starts in 1999, averaging a career low 3.5 yards per carry. One of Bill Belichick's first personnel decisions was to move on, releasing Terry Allen. The Clemson running back hung on for two more years, finishing his NFL career with 10,215 yards from scrimmage and 79 touchdowns. The last information I found on him was fleeing a DUI police chase in 2018.
More February 21 Birthdays
Happy 50th birthday to Will Moore
Born February 21, 1970 in Dallas
Patriot WR, 1995-1996; uniform #83
Bill Parcells signed Moore after spending three seasons with the CFL's Calgary Stampeders. In '95 Moore had 43 receptions for 502 yards and one touchdown.
Happy 31st birthday to Brian Tyms
Born February 21, 1989 in Kent, Washington
Patriot WR, 2014; uniform #84
Signed as a free agent on July 27, 2014
The Patriots felt strongly enough about Brian Tyms that they signed him despite knowing he would soon be suspended for four games for PEDs. In eleven games for the Pats Tyms had five receptions and one touchdown. He received a ring from Super Bowl 49 then spent 2015 on IR. Tyms then spent two years in the CFL and two in the AAF before they went out of existence.
Video: Tom Brady to Brian Tyms 43 yard TD vs Buffalo
Happy 31st birthday to Jake Bequette
Born February 21, 1989 in Little Rock
Patriot DE, 2012-2014; uniform #92
Pats 3rd round (90th overall) selection of the 2012 draft, from Arkansas
Bequette spent more time on the practice squad than on the 53-man roster, appearing in only 8 games over three seasons. He was released with an injury settlement on September 4, 2015. Bequette then joined the Army and is now a 2nd Lieutenant in the infantry. Jake earned a ring with the Pats from Super Bowl 49 versus Seattle.
Catching up with Former Razorback Jake Bequette
Happy 58th birthday to Chuck McSwain
Born February 21, 1961 in Polk County, NC
Patriot RB/KR, 1987; uniform #32
Chuck McSwain was a replacement player for three games during the strike in '87. His brother Rod played safety for the Patriots from 1984-1990.
Cierre Wood
Born February 21, 1991 in Oxnard, California
Patriot RB, 2013; uniform #32
Due to his abhorrent actions there is no bio here. Two games, no stats, move on.
Two other pro football players born on this date with a New England connection
Sandro Vitiello, 62 (2/21/58)
University of Massachusetts
The Italian born kicker played for the Bengals in 1980. From 1988 to 2014 Vitiello was an executive with Regent Sports, a major supplier of products for Walmart. He is now the president of VMN Global in New York.
Ken Huff, 66 (2/21/53)
Deerfield Academy
Spent eleven seasons at guard for Baltimore and Washington, appearing in 145 games from 1975-1985.
---
Posted Under:
Patriots Commentary
Tags:
Boston Patriots
Brian Tyms
Chuck McSwain
Jake Bequette
New England Patriots History
Patriots history
Terry Allen
Walt Cudzik
Will Moore