Today in Patriots History: Demolition of Foxboro Stadium
Steve Balestrieri - PatsFans.com
On February 18, 2002 the demolition of Foxboro Stadium commenced. One month earlier the last game at the old stadium occured. Clutch field goals by Adam Vinatieri in a blinding snowstorm resulted in the Patriots defeating Oakland. That historic playoff game is known as the Snow Bowl in New England; to everybody else it is the Tuck Rule Game.
Construction began on June 15, 2000 for CMGI Field. The internet incubator had a penchant for backing the wrong horse. For example they operated companies like Alta Vista (rather than Google) and uBid (instead of eBay). The stock price dropped from $160 to $40. This caused the dot com to bail from the naming right in order to stop the financial bleeding. Boston based Gillette filled that void by purchasing the naming rights.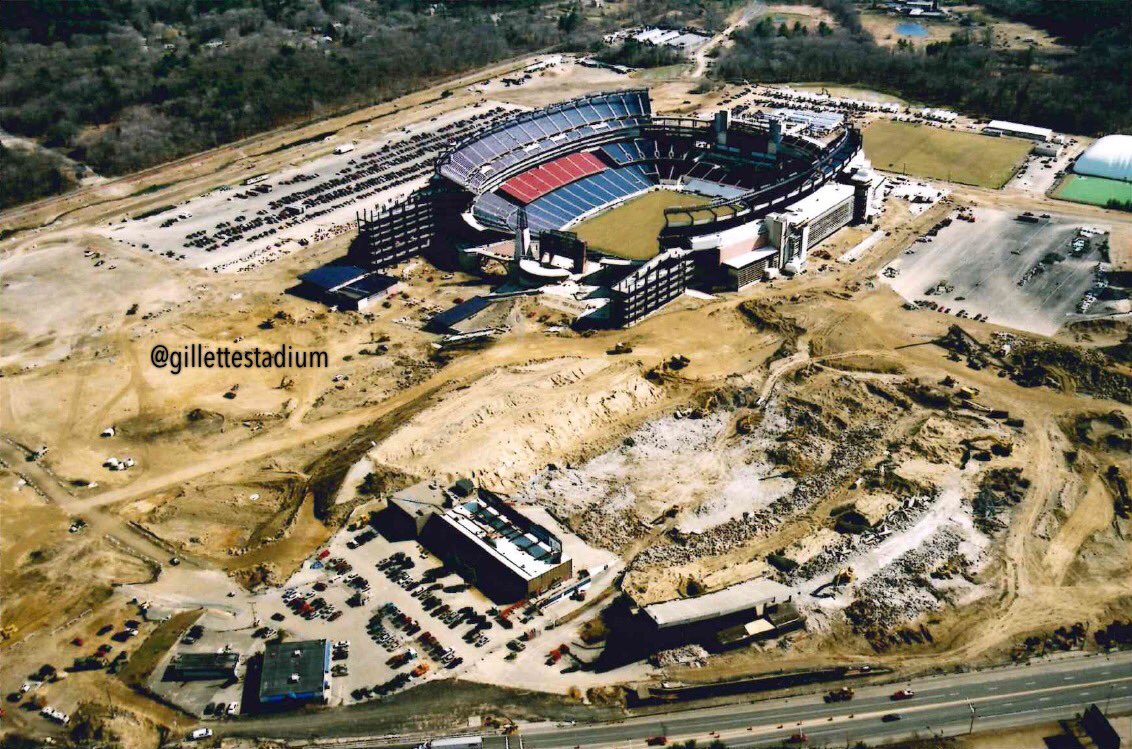 June 1, 2002: the demolition of Foxboro Stadium is completed.
Roland James
Happy 62nd birthday to Roland James
Born February 19, 1958; from Jamestown, Ohio
Patriot strong safety, 1980-1990; uniform #38
Pats first round (14th overall) selection of the 1980 draft, from Tennessee
Roland James played in 145 games with 122 starts for the Patriots. His 29 career interceptions is tied with Ron Hall and Fred Marion for third most in franchise history. James also returned punts as a rookie. He averaged 10.0 yards per return and took one kick back 75 yards for a touchdown in a 34-21 victory over the Jets. Roland James was an obvious choice as a member of the Patriots All-Decade Team of the 1980s.
Since retiring from pro football Roland remained in New England. He coached the Sharon High School football team and over the years has opened his home to more than 25 foster children. James is active in local charities and is now the Director of Youth Services in Somerville.
Brian Waters
Happy 43rd birthday to Brian Waters
Born February 18, 1977 in Waxahachie, Texas
Patriot guard, 2011; uniform #54
Signed as a veteran free agent on September 4, 2011
The offensive line went through a major transition in 2011. A replacement was needed at right guard due to the retirement of Stephen Neal. Back injuries caused Sebastian Vollmer to miss the beginning of the season. A broken ankle resulted in Dan Koppen spending the year on injured reserve. The last minute addition of Brian Waters to a two year contract was a shrewd move. At age 34 he had an excellent season, leading to his sixth Pro Bowl.
Perennial Pro Bowl guard Brian Waters and the Patriots reached an agreement that will give New England the help it has been seeking at right guard.
Waters, who worked out for the Patriots on Saturday, reached an agreement Sunday, the team announced. He signed a two-year deal that could be worth up to $5.5 million, according to sources.
New England continued making some of the biggest moves around the league on cutdown weekend. It cut safety Brandon Meriweather and running back Sammy Morris, and now has reached a deal with Waters, a long time standout in Kansas City.
Any veteran on an opening-day roster has his salary guaranteed for the season.
The fact that New England did a deal now with Waters rather than waiting until after the regular season begins indicates they have big plans for him this season.
New England has spent this summer stockpiling veterans who have made their mark around the league. Waters joins Chad Ochocinco, Albert Haynesworth and Shaun Ellis among others.
The following year Waters refused to report to training camp. The reason stated was a desire to continue playing only if he could be close to his family in Texas. He would sit out the entire 2012 season with Dan Connolly sliding over to guard, and Ryan Wendell taking over as center. The Pats released Waters on April 30, 2013. From 2000 to 2013 Waters played in 186 games, plus six postseason contests.
More February 18 Birthdays
Happy 36th birthday to Mike Richardson
Born February 18, 1984; from Warner Robins, Georgia
Patriot CB, 2007-2008; uniform #35
Pats sixth round (202nd overall) selection of the 2007 draft, from Notre Dame
Mike Richardson spent his rookie season on injured reserve due to a hand injury. He began 2008 on the practice squad before appearing in ten games. The Pats released Richardson midway through training camp in 2019. He later spent time with the Chiefs and Colts, getting on the field for 22 NFL games.
Happy 75th birthday to Preston Johnson
Born February 18, 1945; from Boston
Patriot RB, 1968; uniform #48
The 6'2, 215 pound running back went to Boston English High School and Florida A&M. Preston Johnson was playing for the Lowell Giants in the Atlantic Coast Football League when the Patriots signed him, appearing in three games in 1968. He then returned to the ACFL with the Quincy Giants and Hartford Knights from 1969-1971.
Practice Squad and Training Camp Players
Happy 25th birthday to Tashawn Bower
Born February 18, 1995; from Kenilworth, New Jersey
Patriot DE, 2019-present; uniform #90
Signed to the practice squad on November 21, 2019
Tashawn Bower was signed as an undrafted rookie from LSU by Minnesota in 2017. He played in seven games for the Vikings over two seasons, then missed most of 2019 due to an achilles injury. The Pats re-signed Bower to a reserve/future contract on January 7.
Happy 29th birthday to Robert Thomas
Born February 18, 1991 in Muskogee, Oklahoma
Patriot NT, 2015 practice squad
Signed as a free agent on November 12, 2015
Robert Thomas was with the Patriots for less than a month when Miami signed him off the Pats practice squad to their 53 man roster. He has played in 26 games with four NFL teams, and was last with Buffalo for their 2019 training camp.
Happy 32nd birthday to Mason Brodine
Born February 18, 1988 in Elm Creek, Nebraska
Patriot TE, 2015 offseason
Signed as a free agent on August 6, 2015
The 6'7 270 pounder was with the Raiders and Rams from 2011 to 2015. He spent 2014 on injured reserve and lasted just four days with the Pats, making that his final stop in the NFL.
Other pro football players born on this date with a New England connection:
Doug Mackie, 63 (1957)
Born in Malden; from Saugus, Massachusetts
The offensive tackle from Ohio State was initially with the Giants in 1982. Mackie then played in the USFL for three seasons, blocking for Herschel Walker and Brian Sipe. Atlanta was the final stop of his pro football career in 1987.
Joe Pivarnick (1912-1976)
Born and raised in Bridgeport, Connecticut
Joe went to Notre Dame and then played on the line for the Eagles in the thirties.
---
Posted Under:
2020 Patriots Offseason
Tags:
Brian Waters
Foxboro Stadium
New England Patriots History
Patriots history