Today in Patriots History: Marv Cook
Greg M. Cooper - USA TODAY Sports
For a few years Marv Cook was considered by some to be the best tight end in Patriots history. Cook thrived in spite of his quarterbacks being Marc Wilson, Hugh Millen, Tommy Hodson, Scott Zolak and Jeff Carlson. He set franchise records despite playing for head coaches Rod Rust and Dick MacPherson, and GMs Pat Sullivan, Joe Mendes and Tom Bass, not exactly known for filling a team with a quality complimentary roster.
Marv Cook
Happy 54th birthday to Marv Cook
Born February 24, 1966 in Iowa City
Patriot TE, 1989-1993; uniform #46 and #85
Pats third round (63rd overall) selection of the 1989 draft, from Iowa
Marv Cook never missed a game over five seasons with the Patriots. He led Pats in touchdowns in 1990 and 1991, and receptions (82) in '91. Those 82 catches were fourth among all players in the NFL that year; no other tight end ranked in the top thirty. That also set a then-franchise record for most in a single season by a TE, shattering the old mark of 66 by Derrick Ramsey in 1984. That same year Cook tied a team record for most yards receiving by a tight end with 808, set by Don Hasselbeck ten years earlier.
Cook was fearless going after the ball even though he was not particularly big (6'4, 234). His playmaking skills resulted in becoming a first team All Pro in 1991 and named to the Pro Bowl in '91 and '92. In 1992 Cook (and Irving Fryar) become the first players in club history with three straight seasons of 50 receptions. By comparison Russ Francis, Ben Watson and Hasselbeck never had a single season with that many catches for the Patriots – though to be fair, Francis was a far superior and more complete player on a run-oriented offense. In '92 New England rewarded Cook for his production with a contract extension and pay raise.
Parcells, Ben Coates and Drew Bledsoe
In 1993 Bill Parcells became head coach of the Patriots. Nagging injuries slowed Cook down, resulting in more playing time for third year backup Ben Coates. The on field rapport rookie quarterback Drew Bledsoe had with Coates was evident immediately. Midway through the season Tuna made Coates the primary tight end, and Cook finished the year with just one touchdown. Three days before the 1994 draft the Pats released Cook due to the emergence of Coates, and to clear salary cap space. Cook signed with the Bears and retired after the 1995 season. Meanwhile Coates went on to soon break all of Marv Cook's franchise records.
Marv Cook finished his five years in New England with 210 receptions. At that time it was the sixth most in franchise history, and today it is still the third most by a tight end. He is now a partner in an investment firm and very successful high school football coach in his hometown of Iowa City.
Dennis Owens
Happy 60th birthday to Dennis Owens
Born February 24, 1960 in Clinton, NC
Patriot NT, 1982-1986; uniform #98
Signed May 13, 1982 as an undrafted rookie from North Carolina State
Dennis Owens grew up in a small hog farming town that produced several pro football players. He was a roster surprise as the only undrafted rookie to survive training camp cuts in 1982. That year he backed up Lester Williams and rotated in as a fourth defensive lineman. At the start of the following season Owens replaced Williams in the starting lineup. Owens had four sacks in '83 and was second on the team with 6.5 in '84. He was often a disruptive force collapsing the pocket, allowing Andre Tippett to come in from the outside and cause havoc. Owens had two sacks on Jim McMahon in Super Bowl 20 against Chicago. The Pats waived Owens on September 8, 1987 in order to get down to the 45-player roster limit – just a month after signing him to a two year contract extension.
Three other Patriots born on this date
Happy 74th birthday to Art McMahon
Born February 24, 1946; from Carteret, New Jersey
Patriot safety, 1968-1972; uniform #28
Pats 15th round (385th overall) selection of the 1968 draft, from North Carolina State
Art McMahon overcame long odds to make the roster and had two interceptions as a rookie. He was known for his bone jarring hits and worked his way into the starting lineup over the last half of that season. Back injuries caused him to miss half of the 1970 season and all of 1971. McMahon returned for the entire 1972 season, then played briefly in the WFL. Overall McMahon played in 43 games for the Patriots, with three interceptions and two fumble recoveries.
During the Patriot offseasons McMahon worked in personnel and industrial relations for Raytheon. Over the years he has held senior management positions as a human resource director for various high tech companies in the Boston area.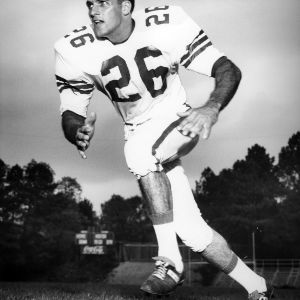 Happy 30th birthday to Dwayne Allen
Born February 24, 1990; from Fayetteville, North Carolina
Patriot TE, 2017-2018; uniform #83
Acquired in trade with Colts on March 9, 2017
The Patriots received Dwayne Allen and a sixth round draft pick in exchange for the Pats fourth round pick prior to the 2017 draft. He was a starter with Indianapolis since his 2012 rookie season, scoring eight touchdowns in 2014 and six in 2016. Allen was a good blocker but never came anywhere close to that production for New England. In 2017 Allen had just ten receptions on 22 pass targets, with one touchdown. Then in 2018 his numbers somehow decreased, to a miniscule three catches for 27 yards – ranking Allen 12th on the team in both categories.
Happy 68th birthday to Chuck Ramsey
Born February 24, 1952 in Rock Hill, South Carolina
Pats sixth round (141st overall) selection of the 1974 draft, from Wake Forest
The punter did not survive training camp cuts, and then spent two years in the World Football League. After the WFL closed their doors he returned to the NFL with the Jets from 1977 to 1984.
More NFL players born on this date with a New England connection
Jordan Todman, 30 (1990)
Dartmouth, Mass; UConn
The running back played in the NFL from 2011-2017, primarily with Jacksonville.
Tom Hogan (1895-1937)
Holyoke, Mass
NFL Lineman played for three seasons in the twenties.
Joe Sabasteanski (1921-1972)
Portland, Maine
Offensive lineman and linebacker played for three seasons after WWII, including two with the Boston Yanks.
---
Posted Under:
Patriots Commentary
Tags:
Art McMahon
Ben Coates
Dennis Owens
Dwayne Allen
Marv Cook
New England Patriots History
Patriots history