Today in Patriots History: Ross O'Hanley
Chris Humphreys - USA TODAY Sports
Today in Patriots History
Ross 'Rocky' O'Hanley
Happy birthday to Ross O'Hanley, who would have been 81 today.
Born February 16, 1939 in Everett, Massachusetts.
Patriot safety, 1960-1965; uniform #25.
Ross O'Hanley was an original Boston Patriot. He rose from being an undrafted rookie to the starting safety on opening day. O'Hanley was named to the 1960 All-AFL Team, the equivalent of being a first team All-Pro today. With the exception of seven 1961 games missed due to military obligations he played in every game for the first six years of the franchise. His fifteen career interceptions still place him in the top twenty in Patriots history to this day.
In 1963 the Patriots played their first postseason game. This was in the days before tiebreakers. The Pats and Bills finished with identical records, and would compete a week after the regular season ended to determine the AFL East champion. Though it doesn't sound like much now it was a big deal back then. The winner would play the following week for the league championship.
O'Hanley was part of a suffocating defense that led the way to victory that day. The safety intercepted Daryle Lamonica twice, one coming on Buffalo's best drive of the first half. Although the Pats offense kept getting bogged down and settling for field goals, the defense made up for it. The D was near perfect, with the Patriots up 16-0 at halftime. By the time the game was over the Pats forced six Buffalo turnovers and won 26-8. It was the first division title in franchise history.

From the Boston Patriots 1965 Media Guide:
An original Patriot, Ross has been regular safety for the Patriots since their inception in 1960 save for a service hitch which required Ross to do duty during the Berlin crisis. He was All-League as a rookie in 1960. A quarterback at Everett's Christopher Columbus High, Ross was shifted to defensive back at Boston College where he played under Pat's Coach, Mike Holovak. At B.C. he won the 1960 Tom Scanlon trophy for combining topnotch football ability with qualities of loyalty and sportsmanship. Ross worked as an account executive for the Commonwealth National Bank.
Boston College Varsity Club Hall of Fame: Ross O'Hanley
January 15, 1960; from BC's newspaper The Heights:
O'Hanley Perfect Choice For Tom Scanlon Memorial Award
"For Merit In Character, Scholarship, Football"
The Tom Scanlon Memorial Trophy award was presented to Ross O'Hanley at the Varsity Club banquet Sunday night by John B. Morris, president of the club.
Everyone who has enough interest in football to be reading this article knows that Ross typifies the good football player. This is no small statement to make about a defensive standout, who usually escapes the ordinary sports fan's notice. The Holy Cross Stadium this year echoed cheers of "Stop 'em Ross" and applause resounding the enthusiastic support usually reserved for colorful offensive players was heaped on Ross.
Not everyone knows the amazing academic schedule Ross kept besides playing football. Yet these are the reasons he was chosen.
He is on the Dean's List in the College of Business Administration with an 85 average. He is a member of the Executive Seminar, the Marketing Club, the Robert Bellarmine Government Academy, and is chairman of senior academic convocations. He also serves as assistant coach for a Pop Warner football team in Everett.
O'Hanley who played freshman football without the inspiration of financial assistance, hails from Christopher Columbus High School Everett. He is one of the few football players who commute.
In his speech, Ross emphasized the "mistaken notion that a student should not play a college sport unless he is receiving financial aid." His reason for playing merely, "I like the game." He attributed to parents, coaches, teachers, and friends a share in the award for inspiring him with a desire to play football and study.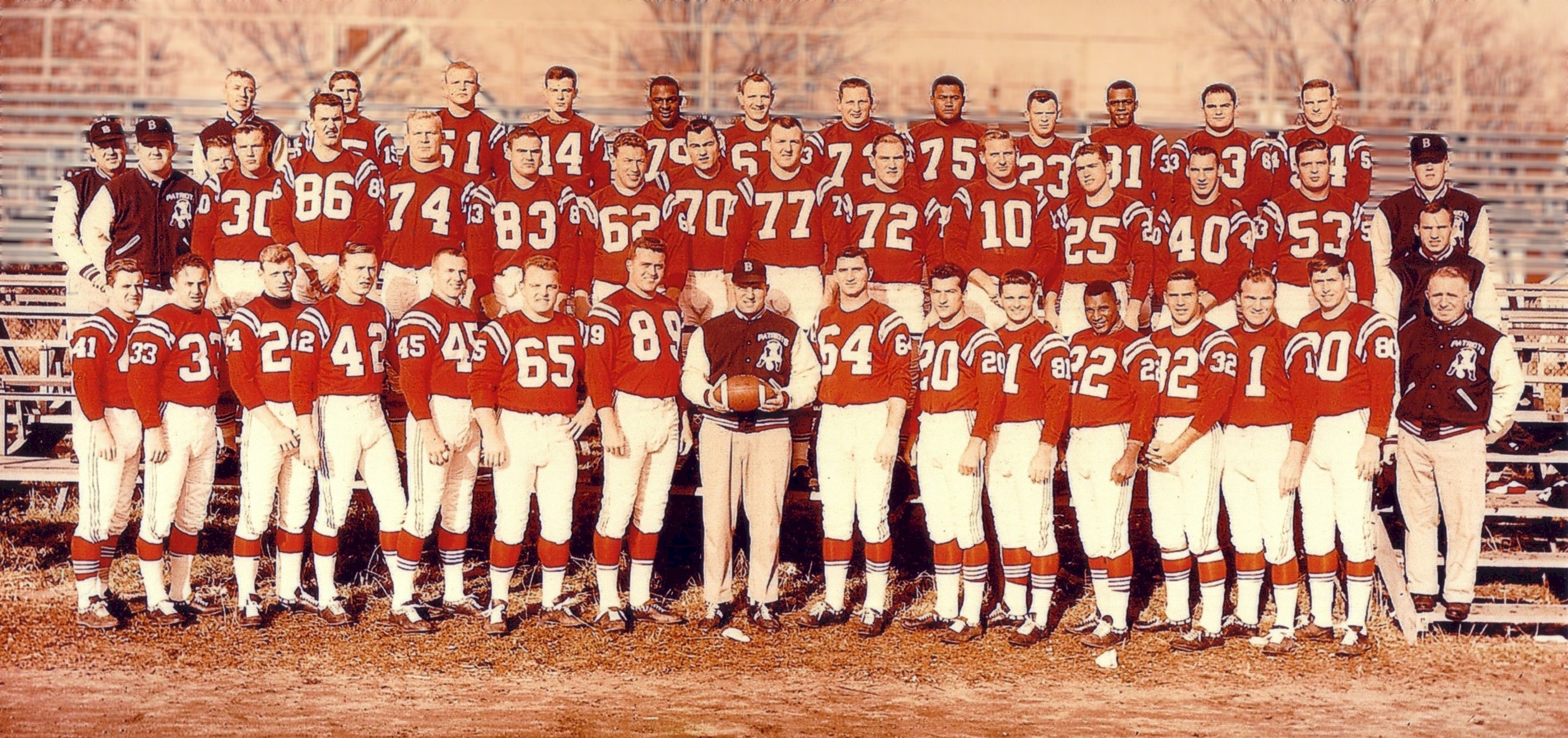 O'Hanley sadly died on April 2, 1972 from a brain tumor at the young age of 33 after he displayed CTE symptoms.
Jerod Mayo Retires
February 16, 2016: linebacker Jerod Mayo retires at the age of 29.
Mayo was the 2008 Defensive Rookie of the Year and two-time Pro Bowler. In 2010 he led the NFL in tackles and was a first team All Pro. After retiring Mayo worked with Optum, the technology division of United Health Care. He rejoined the Pats in 2019 as the team's inside linebackers coach.
New England Patriots LB Jerod Mayo Retires | SI.com
Patriots' Jerod Mayo announces his retirement | The Boston Globe
[embedyt] https://www.youtube.com/watch?v=M_UVrANnMyQ[/embedyt]
The 300 pound Ironman Triathlete
Happy 59th birthday to Darryl Haley.
Born February 16, 1961; from Los Angeles.
Patriot RT, 1982-1986; uniform #68.
Pats 2nd round (55th overall) selection of the 1982 draft, from Utah.
In 1982 the Patriots traded down in the second round. Dropping from #29 to #41 the Pats selected future Hall of Famer Andre Tippett. As part of that deal with San Francisco the Patriots received another second round pick which was used on Darryl Haley.
In his first two seasons Haley was used extensively on special teams, starting only two games when Bob Cryder was injured. In 1984 Cryder was traded to Seattle, and Haley started all 16 games for the Pats. However he missed the entire 1985 season due to colitis and Steve Moore took over as the starting right tackle. Haley filled in as the starter for six games in 1986 when Moore went down with a knee injury. The following year the Patriots traded Haley to Tampa Bay for a fourth round draft pick. Haley played in 57 games with 24 starts for New England. He finished his NFL career with Green Bay in 1988, having played in 79 regular season games and three playoff games.
After retiring from the NFL Haley sought another venue to quench his competitive fire. He became the first person to finish a triathlon that weighed over 300 pounds. Haley has worked as a corporate trainer and technology marketing strategist. He opened a bed and breakfast in 2001 and is an advocate for our national parks and monuments. Haley also has a passion for music and uses that as a way to help veterans and children.
Other February 16 Events
Happy 28th birthday to Marquis Flowers.
Born February 16, 1992 in Independence, Missouri.
Patriot LB, 2017; uniform #59.
Acquired on August 29, 2017 via trade from Cincinnati.
The Patriots received Flowers from Cincinnati in exchange for New England's 2018 7th round (249th overall) draft pick. Marquis Flowers had 30 tackles (23 solo) with 3½ sacks, 5 tackles for a loss, and 4 quarterback hits in 1987. The outside linebacker was on the field for 27% of the defensive snaps and 46% of the special team plays. He also appeared in all three 2017 postseason games. In the 35-14 division round victory over Tennessee Flowers had four solo tackles, a sack, a tackle for a loss and one quarterback hit.​
Happy 55th birthday to Todd Whitten.
Born February 16, 1965 in Dallas.
Patriot QB, 1987; uniform #15.
Todd Whitten was a 22-year old who got on the field for the final replacement player game in the '87 strike season. The Texas Tech graduate has been coaching football at various levels for over thirty years. Whitten was head coach at Sam Houston State for five years. He just received a six year extension as head coach at Tarleton State, a division two school in Texas.
One other February 16 New England pro football player connections
Ralph Marston
Born and raised in Malden. Marston went to Boston University and briefly played QB for the 1929 Boston Bulldogs, in the NFL's eighth year of existence.
---
Posted Under:
Patriots News
Tags:
1960 Boston Patriots
1963 AFL Championship Game
Darryl Haley
Jerod Mayo
New England Patriots History
Patriots history
Ross O'Hanley