New England Patriots History: Happy Birthday Ernie Adams
Today in the history of the New England Patriots we celebrate the birthday of the man, the myth, the legend: Ernie Adams. Ernie Adams turns turns 64 on March 31. The Pats' Football Research Director is Bill Belichick's trusted right hand man. Though he avoids publicity more than Greta Garbo, Adams is arguably one of the three most important people to the team's success this millennium. March 31 is also the birth date of former Patriots Jim Colclough and Bam Childress.
Ernie Adams – Patriot Football Research Director
As a youth Ernie Adams' primary interests were military history and football strategy. 'Interest' is actually putting it extremely mildly. As a teen Adams owned a copy of Football Scouting Methods, an obscure book read almost exclusively by a select group professional football scouts. That book was written by one Steve Belichick – Bill Belichick's father. As fate would have it the two would meet when the younger Belichick enrolled at Phillips Academy. The perfect alliance was born.
Adams enrolled at Northwestern University where he sought a job as a student assistant on the football coaching staff, and his coaching career took off. After graduation he bugged Chuck Fairbanks for a job as an unpaid assistant, and New England's coach finally relented. He immediately impressed far beyond expectations. After Fairbanks departed for greener pastures, Adams caught on with the New York Giants. Once there he told head coach Ray Perkins there was somebody he needed to hire: Bill Belichick. Adams moved up the ranks and was Bill Parcells' director of pro personnel from 1982-85. After becoming frustrated with the Giants he left football to become a bonds trader on Wall Street.
Belichick and Adams reunited when BB became Cleveland's head coach in 1991. Art Modell – who should go down in infamy for firing the two greatest coaches in pro football history – dumped Belichick on his way out of town for Baltimore. Adams was apparently not eager to again work for Bill Parcells, and started his own investment business.
Ernie Adams joins the New England Patriots
Adams joined the Patriots' staff when Belichick became New England's head coach in 2000. Adams is known for thinking outside of the box, beyond the scope of traditional football thought. A Rutgers statistics professor once published a study on when teams should go for a two-point conversion. Adams was the only NFL person to contact the professor to follow up on his work. From his viewpoint up above in the coaches box, Adams is one of the few with direct communications to Belichick.
Tom Brady said Adams "knows more about professional football than anyone I ever met." Brady added "You have to make (the defense) defend the width of the field and the length of the field. Ernie told me, he once told me, 'Make them defend every blade of grass.' I think that's a great thing to do. They've got to be able to – that's how you stress the defense. You can force the ball to all different parts of the field, and they never really know who's going to get it."
I highly recommend that everyone read (or re-read) David Halberstam's Education of a Coach for more insight on Ernie Adams. If you don't have a copy already you can get one on Amazon for a couple bucks. In the interim, check out these articles; they are well worth the time to read them (despite in some cases the source).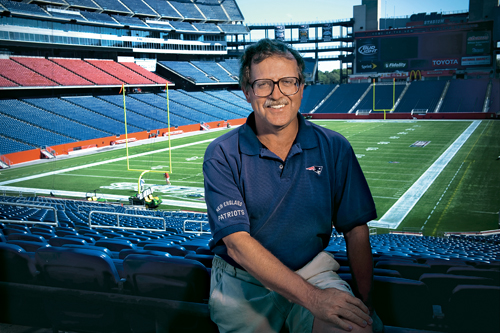 Mystery Man – If you're a true Patriot, then you need to know Ernie Adams, Coach Bill Belichick's voice-in-his ear, football-genius right-hand man | Northwestern University Magazine
Who Is This Guy? You don't know his face, but he's the biggest secret behind the Patriot's success | ESPN
The Patriots' man behind the curtain – Is little-known Bill Belichick confidant Ernie Adams the secret to the Patriots' success? | Boston Globe
Tom Brady shares words of wisdom from New England Patriots research director Ernie Adams | MassLive.com
Adams's role? It's top secret | boston.com
Why Ernie Adams is so interesting | WEEI
Jim Colclough, Patriot WR 1960-68
Jim Colclough (3/31/1936-5/16/2004)
Uniform #81
The Quincy native and Boston College grad was an original Patriot and star of the American Football League. He was a late draft pick of Washington in 1959. Colclough did not make the Redskin roster and then played in Canada for one year. Colclough is a member of the Pats' All-Decade Team of the 1960's. He caught 283 passes for 5001 yards, averaging 17.7 yards per reception while scoring 39 touchdowns.
From the Patriots' 1968 media guide:
An all-time Patriot … has provided Pats fans through the years with some of their greatest thrills … ranks behind only (Lance) Allworth and Dubenion in best all-time AFL average gain with passes caught (17.6) … ranks ninth in top ten of all-time AFL pass receivers.
More from the Patriots' archives:
Jim Colclough was one of the original Patriots, having played with Boston from 1960 through 1968. He was also one of the most productive wide receivers in franchise history, a fact not widely know among some of the later-generation Patriots fans since his playing days came in the early days when pro football was just getting its foothold in New England.
But make no mistake, Jim had some of the best hands in the game.
Jim spent a season in 1965 with the New York Jets where he developed a close friendship with superstar Joe Namath. Later, along with the Bruins Derek Sanderson, they opened a sports bar in Boston's Park Square called The Bachelors 3.
After football, Jim got a Masters in Education. He was the head coach at Boston State (Div. III) and won the league championship in 1978-79. He also worked in the financial services field and authored a Lotus program eventually bought by New England Life.
From his 2004 obituary:
Colclough launched his professional career as a defensive back for a season in the Canadian Football League, but returned to his native New England in 1960 when he signed as a receiver with the Boston Patriots of the American Football League. That year, he led the team with 49 receptions for 666 yards and nine touchdowns. For the next nine seasons, he was one of the most productive players in the AFL, compiling 283 career receptions for 5,001 yards and 39 touchdowns. His 17.7-yard average per reception remains third in franchise history and his 39 touchdown receptions currently ranks fourth.
He held the Patriots career record with 5,001 yards receiving until Stanley Morgan eclipsed it in 1983 and he remains one of only five Patriots players to reach the 5,000-yard receiving plateau. His 283 career receptions still ranks seventh in franchise history.
On a side not, for more on Bachelor's 3 check out the following:
The End of Daisy Buchanan's: Sports Stars Flocked to Storied Boston Bar | Boston Globe
Bruins Legend Derek Sanderson Recalls His Venture Into The Bar Business With Joe Namath | The Post Game
The Bachelor's III Ordeal | Tales from the AFL
Bam Childress, Patriot WR 2005-06
Brandon 'Bam' Childress, 35 (3/31/1982)
Uniform #13
As a basketball player in high school Childress averaged 18 points per game and his team won the state championship. His football team made it to the state semifinals. Childress set school career records for scoring (202 points), touchdowns (33), receiving yards (2,258), touchdown receptions (21), punt returns for a touchdown (seven) and all-purpose yardage (7,103). Childress was named the state of Ohio's 'Mr. Football' in 1999. He began his college football career at Ohio State as a cornerback, then reverted to his role at wide receiver.
The Patriots signed the 5-foot-10-inch, 185-pound Childress as an undrafted rookie in July of 2005. The Pats worked Childress out at both corner and receiver and he spent nearly the full season on the practice squad. Childress was activated for the final 2005 regular season game. In the game most well known for Doug Flutie's drop kick, Childress saw his first NFL action. He caught three out of four passes thrown his way for 32 yards, with a long of 21. Childress also had five tackles (two solo).
Childress was part of final training camp cuts in 2006. He spent most of the season on the practice squad, activated for the season opener and a week 15 game. He spent all of 2007 on New England's practice squad and then signed with Philadelphia. The Eagles cut Childress just prior to the start of the 2008 season. He signed on with the CFL's Saskatchewan Roughriders but was once again a final training camp cut. Childress is now back in Ohio, employed as a State Farm insurance agent.
Other notable NFL players born today include:
Jimmy Johnson (79), 3/31/1938 – Not as well known as either the coach-turned-broadcaster or race car driver, this Jimmy Johnson was a five-time Pro Bowl, Hall of Fame corner for San Francisco.
John Taylor (55), 3/31/1962 – caught Joe Montana's 10-yard touchdown pass with 34 seconds to play to cap a 20-16 Superbowl comeback victory over Cincinnati.
James Jones (33), 3/31/1984 – Packer wide receiver had 14 touchdown receptions in 2012, and had five 50+ reception seasons.
Mark Tuinei (3/31/1960-5/6/1999) – Left Tackle won three Superbowls with Dallas.
Ed Marinaro, 67 (3/31/1950) – Heisman Trophy runner-up from Cornell is more well known as Officer Joe Coffey on the 80's television series Hill Street Blues.
---
Posted Under:
Patriots Milestones
Tags:
Bam Childress
Bill Belichick
Boston Patriots
Ernie Adams
Jim Colclough
New England Patriots
New England Patriots History
Patriots
Patriots Coaching Staff
Patriots history
Pats
Pats Alumni