Today in Patriots History: Jack Concannon
Jack Concannon highlights today in Patriots history. The Dorchester native was the Pats first selection in the 1964 AFL draft.
Local Gridiron Hero Turns Down Patriots​
Happy birthday to Jack Concannon, who would have been 77 today
Born Feb 25, 1943 in Boston
Patriots first round (first overall) selection of the 1964 draft, from Boston College
Jack Concannon was born in Boston and went to Matignon High School in Cambridge. The Boston Patriots were so enamored with the local gridiron hero that they traded up to the top of the draft for his rights. The Pats sent a third round pick together with their own first to Denver to move up three spots, past the Jets and Chiefs. Billy Sullivan surely felt the Boston College graduate would be a big ticket draw. Babe Parilli had just been named to the 1963 AFL All-Star Team but he would turn 34 before the next training camp opened. At BC Concannon was a double threat as a passer and runner. Sullivan viewed him as a worthy successor to Parilli and future face of the franchise. Even Cardinal Cushing urged Concannon to stay home and sign with the Patriots.
The Philadelphia Eagles also drafted Concannon, in the second round of the NFL draft. That occured only after team officials discovered at the last minute that the Pats had not yet signed Concannon. Sullivan operated the Patriots on a shoestring budget. As badly as he wanted Concannon he did not have deep enough pockets to compete in a bidding war with an NFL team. Concannon signed for a $25,000 bonus, new Thunderbird and a $50,000 salary with the Eagles – and as a result the Patriots had nothing to show for from two of their first three rounds of the draft.
Traded to the Bears
This article from the Chicago Tribune gives a very good look back at Concannon's life and career: Jack Concannon 1943-2005
Jack Concannon, whom the Bears obtained in a 1967 trade for Mike Ditka, is remembered by former teammates as the fun-loving but frustrated quarterback who embodied the struggles of the last team George Halas coached and the four years of the Jim Dooley-coached teams.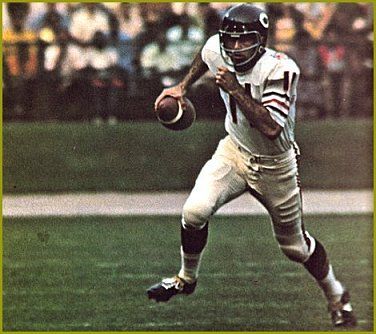 1967: Bears trade Mike Ditka to Eagles for Jack Concannon | FS64 Sports
The 24-year-old Concannon was Philadelphia's second-round draft choice out of Boston College in 1964. At 6'3" and 205 pounds, he was known for his flashy running ability as a quarterback in college and showed off the same form in the NFL – at least, on the rare occasions when he played. Backing up veteran QB Norm Snead (along with King Hill) as a rookie, he was given a late-season start against Dallas and passed for two touchdowns while also rushing for 99 yards in just 8 carries. It was enough to make him a fan favorite, but did not guarantee him more playing time.
After mostly sitting on the bench for the next two years, sometimes relieving at quarterback and occasionally returning punts, Concannon got two late-season starts in 1966 (as part of Head Coach Joe Kuharich's odd three-man starting quarterback rotation), and they were wins. Against the Steelers, he set a club single-game rushing record for a quarterback with 129 yards that lasted until 2010.
More February 25 Birthdays
Happy 73rd birthday to Angelo Loukas
Born February 25, 1947; from Corinth, Greece
Patriot offensive lineman, 1969-1970; uniform #66
Angelo Loukas originally signed with Buffalo as an undrafted rookie from Northwestern in 1969. The Pats acquired Loukas late in the '69 season and he played primarily on special teams in 1970.
Happy birthday to Steve Wilburn, who would have been 59 today
Born February 25, 1961; from Schaumburg, Illinois (1961-2005)
Patriot DE 1987; uniform #99
The Illinois State graduate appeared in all three 1987 replacement games for the Pats. He also played in the Canadian Football League from 1983 to 1990.
Happy 33rd birthday to Matt Kopa
Born February 25, 1987; from Elk Grove, California
Patriot OT, 2011-2012 practice squad
Signed as a free agent on September 5, 2011
Matt Kopa spent nearly two full seasons on the New England practice squad, but never made it to the gameday roster. He retired in 2013 following surgery to two ruptured discs. The Stanford graduate is now a Senior Mobile Product Marketing Manager for Channels and Platforms with Amazon.
February 25 Birthdays with a New England connection
Tom McHale (1963-2008)
Born in Boston
Tom played guard for Tampa, Philadelphia and Miami from 1987 to 1955. He later filled his dream of owning and operating his own restaurant. McHale died from an accidental overdose of OxyContin at the age of 45, and was the sixth former NFL player to be diagnosed post-mortem with CTE.
Steve Hammond, 60 (1960)
Born in Hartford
Linebacker from Wake Forest played in all three USFL seasons, then with the Jets in 1988.
Phil Vandersea, 77 (1943)
From Northbridge, Mass; UMass-Amherst
6'3, 245 pound linebacker and defensive end was a late draft pick by Green Bay in 1965. Phil was part of the Packers team that defeated Kansas City in the first AFL-NFL championship game, later known as Super Bowl I. After the NFL Vandersea worked in sales, as a teacher-coach in Bellingham and as an assistant coach at Holy Cross before being hired to work in the state Department of Corrections. He spent 20 years there, then retired.
Fran Mallick, 79 (1941)
After one year with the Steelers Fran played semi-pro football for five years in Hartford. From 1966-67 Mallick was a defensive end for the Hartford Charter Oaks in the Continental Football League. He spent the next three years with the Hartford Knights of the Atlantic Coast Football League, twice being named All-ACFL.
John Barrett (1899-1966)
Born and raised in Holyoke; Holyoke High School
Barrett was a center in the fledgling days of the National Football League. He played from 1924 to 1929 with now long defunct franchises: the Akron Pros, Detroit Panthers, Pottsville Maroons, and Detroit Wolverines.
---
Posted Under:
Patriots Commentary
Tags:
Atlantic Coast Football League
Jack Concannon
New England Patriots History
Patriots history