Today in Patriots History: Stanley Morgan
Robert Deutsch - USA TODAY Sports
February 17 is highlighted by the birth dates of Stanley Morgan, Sony Michel, Bryan Cox and Ron Meyer.
Stanley Morgan
Happy 65th birthday to Stanley Morgan
Born February 17, 1955 in Easley, South Carolina
Patriot WR, 1977-1989; uniform #86
Pats 1st round (25th overall) selection of the 1977 draft, from Tennessee
Stanley Morgan is one of the greatest players in the history of the New England Patriots. His 534 career receptions was a franchise record that would last for 17 seasons. The 'Stanley Steamer' had 67 career receptions, another club record that would rank first for 28 years. His 10,352 yards receiving is all-time best in team history. Morgan had 38 100-yard games, still to this day ten more than any other Patriot. What is even more remarkable is that Stanley Morgan did this in a run oriented offense, long before rule changes made things easier in the passing game.
Number 86 averaged 19.2 yards per catch over his career, and NFL record for players with at least 500 receptions. In his first six seasons Morgan averaged 22.6 yards per catch, leading the league in that category three straight times. Nobody in NFL history has ever come close to that type of production over any six year period.
In 2007 highly respected Paul Zimmerman of Sports Illustrated came to the conclusion that Stanley Morgan deserved to be in the Pro Football Hall of Fame. I wonder if part of the reason he is overlooked is because it took so long for the Patriots themselves to honor him. Morgan was not inducted into the Patriots Hall of Fame until 2007, 18 long years after he last played for the Pats. By comparison the University of Tennessee placed him in their Hall four years after he last played for the Vols.
Since retiring Stanley Morgan moved to Memphis, the hometown of his wife. He works for Federal Express in their international department.
[embedyt] https://www.youtube.com/watch?v=rJADp8uKepI[/embedyt]
[embedyt] https://www.youtube.com/watch?v=WpzbIZvvF3w[/embedyt]
Sony Michel
Happy 25th birthday to Sony Michel
Born February 17, 1995; from Plantation, Florida
Patriot RB, 2018-present; uniform #26
Pats first round (31st overall) selection of the 2018 draft, from Georgia
Sony Michel has rushed for over 900 yards in both of his two seasons with the Patriots, with 13 touchdowns. He excelled in the 2018 postseason, culminating in the Super Bowl victory over the Rams. In those three games Michel ran for 336 yards and six touchdowns, averaging 4.7 yards per carry.
For more on his background please check out the following:
Lead from the Back: The Sony Michel story | patriots.com
[embedyt] https://www.youtube.com/watch?v=88JChULNfQM[/embedyt]
Bryan Cox
Happy 52nd birthday to Bryan Cox
Born February 17, 1968 in St. Louis, Missouri
Patriot LB, 2001; uniform #51
Signed as a veteran free agent on July 31, 2001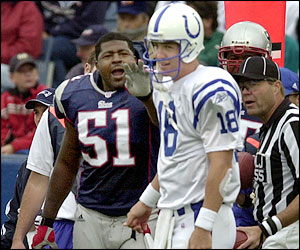 Bryan Cox was 33 years old when the Patriots signed him late in the 2001 offseason. The ten year veteran had a reputation of being a mean, fearsome and aggressive defender. A very memorable play came at a critical juncture of the 2001 season. In week three the Pats were 0-2 and Tom Brady was making his first NFL start. Peyton manning threw a short pass to Jerome Pathon. Cox delivered an absolutely devastating hit on the wide receiver. The play visibly energized the Patriots, who went on to upset the Colts that day by the score of 44-13 – and the rest is history.
You can see the hit at the 13:25 mark on the video below.
[embedyt] https://www.youtube.com/watch?v=Rpq7LITJQTM[/embedyt]
From 2006 to 2016 Bryan Cox worked as a defensive line coach with several teams. His final stop was with Atlanta in Super Bowl 51 against the Patriots.
Ron Meyer
Happy birthday to Ron Meyer, who would have been 79 today
Born February 17, 1941 in Westerville, Ohio
Patriot head coach, 1982-1984
Hired on January 15, 1982
The eighth head coach in franchise history is one of two to never have a losing record with the Patriots. He was hired to replace Ron Erhardt, who had gone 2-14 in 1981. In the strike-shortened 1982 season the Pats made the playoffs with a 5-4 record and Meyer was named AFC Coach of the Year.
Ron Meyer has some unique tidbits as part of his legacy. He was the head coach who turned SMU into a football powerhouse – and was also the reason the program received the NCAA death penalty for recruiting violations. Meyer was the head coach for the Snow Plow Game, when parolee Mark Henderson nearly caused Don Shula to have a stroke. As awesome as that maneuver was for fans of the Patriots, perhaps his greatest contribution to the franchise was hiring a young coach on his SMU staff by the name of Dante Scarnecchia.
Meyer may be one of the only head coaches in NFL history to be fired in midseason with a winning record. That happened after he fired his defensive coordinator following a 44-24 loss without telling his boss. It was the final straw for GM Patrick Sullivan, who was not informed of the decision and heard about it second hand. Previously Sullivan had overruled Meyer on several trades he wanted to make, which included John Hannah, Julius Adams, Tony Collins, Mosi Tatupu and other key players.
Tiquan Underwood his hair
Happy 33rd birthday to Tiquan Underwood
Born February 17, 1987 in New Brunswick, New Jersey
Patriot WR, 2011; uniform #10
Signed as a free agent August 29, 2011
Jacksonville selected the Rutgers product in the seventh round of the 2009 draft. The Pats picked him up after being waived by the Jaguars for depth and special teams. The 2011 Patriots had a less than ideal mixture at wide receiver. Three players were on the wrong side of 30 (Wes Welker, Deion Branch, Chad Johnson) and Julian Edelman and Matthew Slater were strictly special teams players. The Pats worked around that lack of depth by primarily using two tight end formations (and waiting too long to throw in the towel on Ochocinco).
Tiquan Underwood played in ten regular season games and two playoff games as the Pats in 2011, with three receptions. The media attempted to make a big story about the Pats cutting him just before Super Bowl 46, replacing him with Rutgers teammate Alex Silvestro. He was picked up by Tampa Bay in 2012, reuniting with his college coach Greg Schiano. Underwood had 52 receptions and six touchdowns in two seasons for the Bucs. He is now back at Rutgers as their wide receivers coach.
Happy 67th birthday to John Lee
Born February 17, 1953 in Fort Monmouth, New Jersey
Patriot DE, 1981; uniform #66
Claimed off waivers from San Diego on November 16, 1981
John Lee started in four games for the Patriots at the end of the forgettable 1981 season. He played in 54 NFL games from 1976-1981, all the rest with the Chargers.
Offseason, practice squad and locals
Jake Kumerow, 28 (1992)
2017 Practice Squad
The wide receiver has spent the last two seasons in Green Bay, appearing in 19 games.
LeQuan Lewis, 31 (1989)
2013 Offseason and Training Camp
From 2012 to 2014 the cornerback played for the Cowboys, Bucs and Jets.
Mark Didio, 51 (1969)
University of Connecticut
The wide receiver played briefly with the Steelers in 1992. He is now Vice President of Global Specialty Sales at Melissa and Doug, an american manufacturer of children's toys.
Arthur Forst (1891-1963)
Born in Derby, Connecticut
'Dutch' played for the Hartford Blues and Providence Steam Roller back in the twenties.
---
Posted Under:
Patriots Milestones
Tags:
Bryan Cox
New England Patriots History
Patriots history
Ron Meyer
Sony Michel
Stanley Morgan
Tiquan Underwood