---
Posted September 28, 2011 at 11:51 am
By:
---
On the Thursday before the opening game of the Patriots season, I had the pleasure of actually being in Gillette Stadium in a radio studio observing "The Adam Jones Show", which is a fairly new show covering the Patriots as well as other Boston Sports. It was a unique experience watching a sports radio show unlike any in Boston, and here is my behind the scenes look at "The Adam Jones Show" on ESPNBoston.com.
At about 10 minutes before noon the show begins, and Drew Brooks, who is co-host of this show, calmly prepare all the details he needs to run the program. At that moment, Adam Jones walked in and mentioned that he just came from an open Patriots Locker Room session.
He discussed briefly his time in the locker room, and then the co-hosts went over the summary of that day's show. Shortly after the show began, and these two hosts went into action.
What was interesting after being there was the fact it's only the two of them running this 2 hour show. It is only been on the air since April 8th, but the chemistry between the co-hosts was very obvious.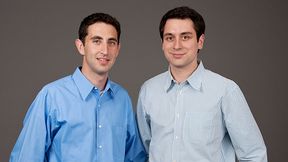 Andrew Brooks and Adam Jones of "The Adam Jones Show" on ESPNBoston.com
The show flowed very seamlessly from one segment to the next. It started with a "Read and React" segment, which is where they discuss several topics at the top of the show, and that springboards them to use those same points throughout the program. On this day, the topics ranged from Red Sox pitcher Tim Wakefield, to a discussion on Peyton Manning.
They also had 2 guests scheduled, and which included ESPN Boston writer Mike Reiss, and ESPN Fantasty Football expert Chris Harris. Between the guests there were obviously callers, and of course Adam and Drew discussing the topics of the day.
There are a few things that make this show unique to the Boston market. First of all this is an internet only station, so you can only listen to it online or through an app on your mobile phone.
Second, in my opinion, the style of the show is very different than what you are used to listening to on Boston sports radio. This show has more guests, and discusses more topics rather than harping on one particular subject. I think you will notice a different "feel" to the show.
I had the opportunity to talk to Louise Cornetta who is the Program Director for ESPN Radio. I wanted to learn more about the show, and the future direction of the station.
I first asked her what are the long term plans for the show. She stated, "Well, right now the plans are to continue to grow Adam and Drew's show online, and we really don't have plans beyond that at the moment".
I next asked her was she concerned about WEEI going on the FM Dial. She responded, "It is wonderful for WEEI. We are not looking to compete with WEEI or 98.5 The Sports Hub.
"We reach a lot of people in Boston, around the country, and the world because we are online. We don't look at it as competing with them. We think there is room for everyone."
So before I mention my discussion after the show with Adam and Drew, I wanted to tell you something about them.
Adam is a veteran of sports radio in Boston. He worked at ESPN 890 from 2006-2009. He then moved on to 98.5 The Sports Hub where he co-hosted a show with Boston Globe sports writer Dan Shaughnessy.
Drew is the show's producer and co-host. He also worked prior at ESPN 890. More recently he hosted a show on 'The Fan' in Phoenix, Arizona before coming to ESPNBoston.com.
What is interesting about this show is really about the two hosts, and how they interact together. Adam and Drew both told me that working together in the past helped, but the chemistry really began when they started this new show together.
As I observed the two hour block of radio, the show continued to flow from segment to segment effortlessly, and they made the topics interesting. There were a few callers, but for the most part it was the two of them doing the majority of the talking.
The style of this show I would say is more like two friends just talking about the teams in town. Their show is as "fair and balanced" on Boston sports as I have listened to in the Boston area.
They do talk about all of the Boston sports teams, and are also not afraid to talk about National stories. However, you will notice they talk a good amount about the Patriots.
I thought the reason for so much Patriots talk would be that their studio was in Gillette Stadium. However, they told me the real reason is they both just like talking football.
They have incredible access to Patriots related guests. They have Mike Reiss of ESPNBoston.com on often, who is obviously one of the best beat writers in the business on the team.
They also have the ability to have players on the show. Players such as Rob Gronkowski, Devin McCourty, Patrick Chung, Deion Branch, and many more have come on the show.
Adam told me that they don't have any restrictions on what they can say about the Patriots from either ESPN or the team. He actually mentioned that Jonathan Kraft was on their show and he told them they are free to do what they want. Adam stated,"if they have a bad game, we are going to be critical of it."
As I stated before, Adam and Drew do talk a great amount of football so before I left Gillette, I had to ask them both a question and a prediction regarding the Patriots.
What would be a successful season for the New England Patriots?
Adam: I will just say win a play-off game which will probably be the AFC Championship Game. To just win a game would a success but the goal is to win a Super Bowl. If they go 14-2 again, and lose in the first round of the play-offs that is not a success.
Drew: A successful season is winning in the play-offs. To me it is getting to the AFC Championship game.
What is your prediction for the Patriots record this season? 
Adam: 13-3
Drew:  12-4
There are 2 sports radio stations that dominate the airwaves in Boston, but the good news for fans is the fact there is another option out there, and while this one might be online, it certainly has plenty to offer the local sports fan in Boston.
I want to thank Adam Jones and Drew Brooks for letting me into their world three weeks ago. It certainly was a tremendous experience. I also want to thank Louise Cornetta, the Program Director for ESPN radio for inviting me to come down, and observe the show. I finally want to thank Mike Reiss, because without his help, this article would not be possible.
You can check out "The Adam Jones Show" weekly between noon-2 PM EST on ESPNBoston.com.
---
THE LATEST FROM PATSFANS.COM: