Today in Patriots History: Art Modell fires Bill Belichick
Kevin Hoffman - USA TODAY Sports
Today in Patriots History
Art Modell fires Bill Belichick
On February 15, 1996 Art Modell fired Bill Belichick.
Conventional wisdom is that the Browns fired Belichick but that is not factually correct. Six days prior to his termination the NFL owners approved the franchise's move to Baltimore. The league also announced an agreement with Cleveland that would keep the Browns name and history in the city for a new team to begin play by 1999. Technically Belichick was fired by a Baltimore franchise that had yet to be named the Ravens.
Regardless of the timeline, Cleveland never embraced BB – and the Browns seem to have suffered from the Curse of Belichick ever since. While it is true (and often repeated) that the Browns had a losing record under Belichick, fans and sports writers should dig a bit deeper before jumping to conclusions.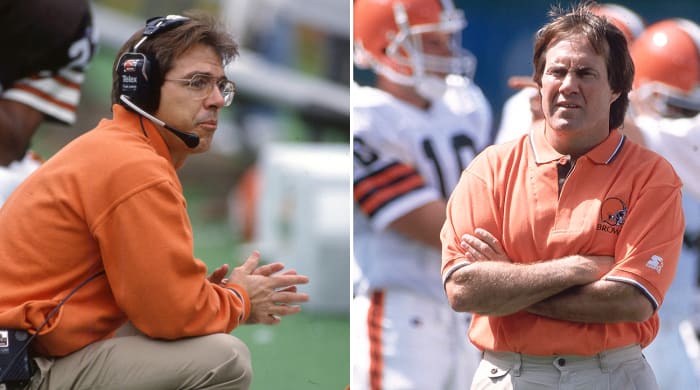 Belichick inherited an aging three-win team with bad contracts, placing it in a very poor salary cap position. Two years later QB Bernie Kosar had become insubordinate, freelancing and changing plays to the detriment of the team and contrary to the game plan. Owner Art Modell and all the coaches were unanimous in the decision to cut Kosar. Everyone knew cutting a local product that was well liked by both the fans and press would be difficult. Then when Modell was bombarded with questions by the media he shriveled and hung Belichick out to dry for releasing the fan favorite.
Those circumstances plus an injury to Vinny Testaverde led to a third mediocre season: 6-10, 7-9, 7-9. One year later the Browns went 11-5, and defeated Bill Parcells and the Patriots in the playoffs. Year Five began with a 3-point loss at Foxboro, followed by three solid victories – by a cumulative score of 71-30. At that one-quarter point of the 1995 season the Browns were considered to be one of the top two or three teams in the NFL.
Rather than waiting until the season was finished, Modell inexplicably announced the team would relocate for the 1996 season. It was unchartered territory for any head coach to navigate. With an unprecedented amount of distractions the Browns won just two more games.
The Browns are now on their 12th head coach since Belichick. In that time they have made it to the playoffs once, losing in the wild card round. Since resuming operations in 1999 the Browns have a record of 96-224-1. The last Cleveland head coach to win a playoff game was Belichick, in 1994 – before many NFL fans were born.
Art Modell fired not one, but two of the greatest coaches in football history: Belichick and Paul Brown. That alone should permanently exclude him from any consideration for the Hall of Fame.
The silver lining is that Bill Belichick learned valuable lessons from his time in Cleveland. In order to avoid a repeat scenario he walked away from the Jets and instead became head coach of the Patriots. The Bernie Kosar situation taught him how to transition from a fan favorite to a better option at quarterback. And the move to Baltimore was a lesson on how to maintain focus and 'ignore the noise' outside the locker room.
February 15 Birthdays
Happy 63rd birthday to Marc Wilson
Born February 15, 1957; from Shoreline, Washington
Patriot QB, 1989-1990; uniform #15
Signed as a veteran free agent on March 22, 1989
Oakland drafted Marc Wilson fifteenth overall in 1980, from BYU. In 1982 he led the team to four 4th quarter comebacks and in '85 he had an 11-2 record as the starting quarterback. However he made more top-ten appearances in sacks and interceptions than passing yards or touchdowns. At age 32 he was simply a stop gap and part of a carousel at quarterback until the Pats would eventually draft Drew Bledsoe. Wilson played in thirty games for the Pats, going 1-9 as a starter with nine touchdowns and 16 picks.
Happy birthday to Tom Hennessey, who would have been 78 today
Born February 15, 1942; from Brookline (1942-2012)
Patriot CB, 1965-1966; uniform #30
Tom Hennessey played with the semi-pro Boston Sweepers for one year after graduating from Holy Cross. That led to a tryout for the Patriots, and playing pro football at Fenway Park just a few miles from where he grew up. Hennessey was an overachiever, and after two seasons banging heads with guys forty pounds heavier he decided to step away from football. He never missed a single game in his two seasons with the Pats, recording eight interceptions. He went on to a 28-year career in the Boston public school system and also served on Brookline's Board of Selectman and School Committee.

Oct 31, 1965: Tom Hennessey intercepts a pass intended for Lance Alworth in a 22-6 victory at San Diego.
The obituary below is well worth the read:
Tom Hennessey: Brookline's humble sports hero
Other players born on this date with a New England connection
Brian Brennan, 58 (1962)
Boston College
Gerard Phelan was the player that caught Doug Flutie's Hail Mary. Brian Brennan was the other BC wide receiver, that went on to play nine seasons in the NFL. Brennan played in 132 NFL games, mostly with Cleveland. He had 334 receptions with 20 touchdowns, plus 24 more catches and four TD in the postseason. Since then Brennan has worked in the financial industry and is now a Managing Director at Key Bank.
Mule Werwaiss (1905-1965)
Born in New Haven; Dean Academy, Franklin MA
Elbert Werwaiss played nine games as a tackle for the 1926 Hartford Blues.
Bill Kovacsy (1901-1980)
Born in Bridgeport, CT
Offensive lineman for his hometown Hammond Pros.
Dan Ahern (1898-1963)
Born and raised in Manchester NH; Manchester Central High School
Another lineman, Ahern was a Georgetown grad who played for the Washington Senators.
Charlie Clark (1898-1960)
Born in Somerville; Milton Academy; Harvard
Clark is the only person from Milton Academy to make it to the NFL. He played for the Chicago Cardinals in 1924.
Paul Dufault, 56 (1964)
Born in Bridgeport; Spaulding HS, Rochester NH; University of New Hampshire
The center played with the raiders briefly in the eighties. He is one of only two NFL players from Spaulding High School.
---
Posted Under:
2020 Patriots Offseason
Tags:
Bill Belichick
Cleveland Browns
New England Patriots History
Patriots history