Today in Pats History: Happy Birthday Chris Long
Winslow Townson - USA TODAY Sports
Happy Birthday to Chris Long, who headlines March 28 in New England Patriots' history.
Chris Long, 32 (3/28/1985)
Patriot DE, 2016
Uniform #95
The Longs are one of the premier NFL football families. Chris' father Howie is in the Pro Football Hall of Fame, and his brother Kyle is a starting RG for the Bears. At Virginia Chris Long was a unanimous All-American and first team All-ACC. He was also the ACC Defensive Player of the Year, and won the Ted Hendricks Award for the nation's best defensive end. The St. Louis Rams selected Long with the second overall pick of the 2008 draft.
Long was a steady starter on a solid Ram defense for several years. However he missed ten games in 2014 with an ankle injury and four more in 2015 due to a knee injury. Upon his return Jeff Fisher kept William Hayes as his starter, leaving Long as a situational reserve. The Rams had previously restructured Long's contract which created a cap number of $14 million for 2016. Not surprisingly he was cut as one of several cap saving moves.
Long visited with Dallas, Washington and Atlanta, and then signed a one-year deal for $2 million with the Patriots on March 18, 2016. Having previously cashed in with two large contracts, Long was secure with leaving some money on the table in order to play for a Superbowl contender.
After eight years of wallowing in St. Louis Ram mediocrity, Long finally not only experienced a winning season but also the playoffs and a Superbowl victory. Though it did not show up in the stat sheet Long did have key plays in the improbable comeback victory over Atlanta. On one key play his bull rush over Jake Matthews applied pressure from the right, so Matt Ryan could not turn that way. This was on Dont'a Hightower's oft-replayed strip sack and fumble recovered by Alan Branch. That play may have been a big reason why Long was able to draw Matthews into a holding penalty on the subsequent drive. That flag resulted in a loss of ten yards and kept Atlanta out of field goal range. It was one of several plays that was the difference between a Superbowl win or loss.
Long played in every Pats game in 2016, with seven starts. However his playing time decreased as the season progressed. In the first eight games Long was in for about 70% of the defensive plays, averaging 49 snaps per game. Down the stretch that dropped to just over 50%, averaging 34 snaps in the final six games of the regular season. In the playoffs Long had 27 snaps versus Houston, 20 plays (29%) against Pittsburgh and then only 15 snaps in the Superbowl. With that in mind it is understandable that he has elected to explore other options in free agency. Long finished the season with 35 combined tackles (22 solo), four sacks, three passes defensed and one forced fumble. Despite his short time in Foxboro all of Patriot Nation is grateful for his hard work and contribution.
Off the field the Chris Long Foundation's signature project is The Waterboys. It unites NFL players and fans to raise awareness and funds with a goal to install 32 deep borehole wells in East Africa. Each well costs $45,000 and serves up to 7,500 people.
3/28 12:05 pm update: Long has reportedly signed a contract with the Philadelphia Eagles.
[embedyt] https://www.youtube.com/watch?v=60xkzhiU2Mg[/embedyt]
Reche Caldwell – Patriot WR, 2006
Reche Caldwell, 38 (3/28/1979)
Uniform #87
Like many pro athletes, Caldwell excelled in multiple sports as a youth. In high school he threw 77 touchdown passes and also set several school records in baseball. He was drafted by the Cincinnati Reds in 1998 but opted to play football instead. Caldwell stayed in state and went to the University of Florida. There he played for Steve Spurrier at the end of the Fun-n-Gun era. On offense he played alongside future NFL players such as Rex Grossman, Jabar Gaffney and Earnest Graham.
Caldwell finished his junior year with 65 receptions for 1,059 yards and ten touchdowns. San Diego then selected him in the second round of the 2002 draft, 48th overall. He spent four years with the Chargers, never quite living up to his draft status. Over that span Caldwell had 76 catches for 950 yards and seven touchdowns.
Following the 2005 season Patriot free agent David Givens signed with Tennessee. Troy Brown would soon turn 35. Depth at the wide receiver position needed to be replenished, and the Pats signed UFA Caldwell. At the same time Deion Branch was in the last year of his rookie contract. He held out and was eventually traded after lengthy and bitter negotiations. Rookie Chad Jackson injured his hamstring in training camp. Rather than being a third or fourth option at WR, Caldwell was suddenly by default forced to be the primary receiver.
In that 2006 season Caldwell had 61 receptions (on 101 targets) for 760 yards and four touchdowns. The playoffs started well as he caught 12 of the 15 passes thrown his way over two games, for 130 yards. That included a TD against his old team in a 24-21 victory at San Diego.
2006 AFCCG at Indianapolis
Caldwell was targeted nine times against Indy, catching just four passes. At one point Caldwell muffed a perfectly thrown pass in the corner of the end zone. Then with under ten minutes to go and the score tied, Caldwell was left uncovered on a botched Colt defensive assignment. Brady threw to Caldwell for what should have been an easy catch and an 18 yard waltz into the end zone. Caldwell became overanxious and turned too soon – even though no defender was remotely close to him – and dropped the ball. Two plays later he was unable to catch another pass and the Patriots had to settle for a field goal. The Colts came back to win the AFCCG 38-34. The NFC was weak that year; the winner of that game was the defacto Superbowl champion. It was a huge missed opportunity for the Patriots.
Bill Belichick retooled his offense the following season with the additions of Randy Moss and Wes Welker. Caldwell was cut on September 3, 2007 and spent one final NFL season with Washington. His post-NFL career did not go well.
Caldwell returned to his old Tampa neighborhood and opened up a gambling parlor. His problem was that it was successful, and he never considered that perhaps he should keep a low profile. After the inevitable arrest for bookmaking and running a gambling house, Caldwell posted bond. He kept hanging out with his old crew and saw how popular Ecstasy was at the clubs. Caldwell made the absurdly foolish decision to buy some Molly over the internet as his next business venture. That resulted in a 27-month prison sentence.
How Reche Caldwell Googled his way from the Patriots to prison | ABC News
Greg 'Truck' Moore – Patriot LB, 1987
Greg Moore, 52 (3/28/1965)
Uniform #54
The 6'1, 240 lb linebacker went to college at Tennessee-Chattanooga. He was one of the replacement players in 1987 when the NFLPA went on strike. Moore started in all three of those replacement games, with one fumble recovery.
With his brief NFL career over, Moore returned to his native Georgia. He is the owner of Elite Realty Specialists.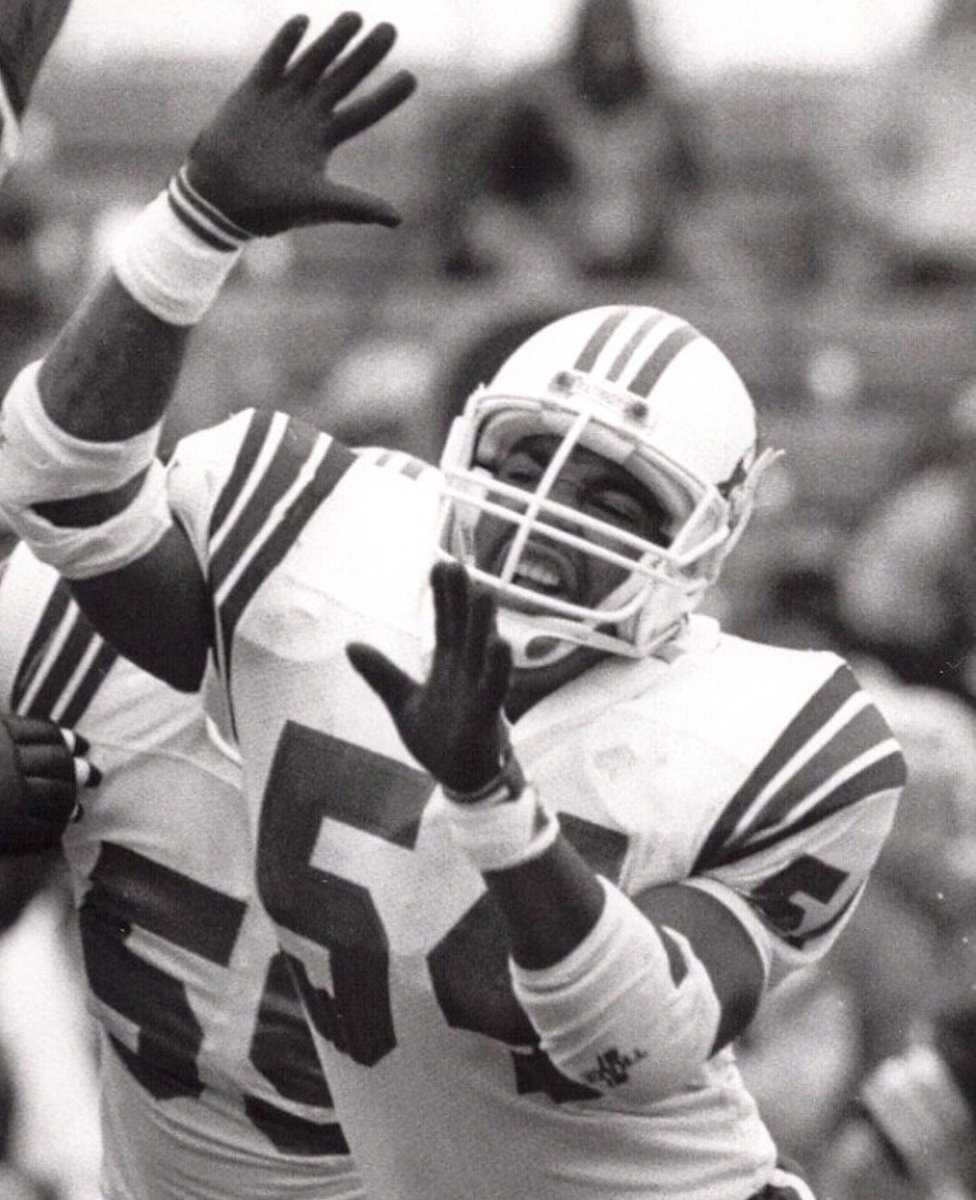 Bryan Wagner – Patriot P, 1991 and 1995
Bryan Wagner, 55 (3/28/1962)
Uniform #8 and #9
Wagner was with five different teams over nine season in the NFL. With the Browns in 1997 he led the league in number of punts with 97; the following season he led the NFL with four punts blocked. He signed with the Patriots in 1991 but was released after three games. Wagner was averaging a mere 29.1 net yards on his 14 punts.
The Patriots re-signed him in 1995. He punted 37 times over eight games, with a carer-high 42.1 yards per punt. He now teaches phys ed and is a high school football coach in Ohio.
1/12/1986: Bryan Wagner Is Alive and Hopes to Be Kicking in the NFL
1/25/1995: Super Bowl XXIX : Persistence Lands Him on His Feet
5/31/2005: Ex-punter lands coaching job
Steve Doig – Patriot LB, 1986-87
Steve Doig, 57 (3/28/1960)
Uniform #59
Doig is a New England native. He was born in Melrose, played hockey at North Reading High School and went to the University of New Hampshire. At UNH he was the ECAC player of the year. Detroit selected Doig in the third round of the 1982 draft, 69th overall. Over three seasons with the Lions he appeared in 34 games with four starts.
The Patriots signed Doig in 1986, after he had not played at all the previous season. He played in five games for the Pats in '86, and one more in 1987. Doig also appeared in the playoff loss to Denver following the 1986 season. The Pats waived Doig on September 8, 1987.
Doig's biggest highlight came in the last game played at the Orange Bowl. In the '86 season finale Doig recovered a fumbled kickoff to give the Patriots the ball at the Miami 24. On the next play Craig James fumbled the ball away, and Tony Eason injured his shoulder making the tackle. Steve Grogan replaced Eason and later threw a 30-yard touchdown pass to Stanley Morgan with 44 seconds remaining. That gave the Patriots a 34-27 victory, and the AFC East title.
Lonnie Farmer – Patriot LB, 1964-66
Lonnie Farmer, 77 (3/28/1940)
Uniform #55
Farmer played in 31 games over three seasons for the Pats, but his carer was cut short by a knee injury. This is from the 1966 Patriots Media Guide:
This rebel belter from Lookout Mountain, Tenn., enters his third pro season with best prospects ever … lost last season with a knee injury … otherwise would have been a regular … is one of the surest, toughest tacklers on Patriots team … is one of Coach Holovak's best on the suicide squad … was brought to Boston's pros by fellow Chattanooga alumnus Charley Long … was Williamson All-American and AP second team All-American in '63 … has a real taste for action … intense competitor … injury free season could give Lonnie a shot at All-Star honors.

Left to right: defensive tackle Jim Lee Hunt, safety Ron Hall, and linebacker Lonnie Farmer.
Other NFL notables born on March 28 include:
Geno Atkins (29), five-time Pro Bowl DT for Cincinnati Bengals.
NaVorro Bowman (29), four-time All Pro LB for San Francisco 49ers.
Derek Carr (26), two-time Pro Bowl QB for the Oakland  Las Vegas Raiders.
Jim Turner (76), AFL-AFC kicker for the Jets and Broncos
There is only one March 29 Patriot birthday, so I will insert it here.
Chris Calloway – Patriot WR, 2000
Chris Calloway, 49 (3/29/1968)
Uniform #82
Calloway is most well known for seven years with the Giants. He was their leading receiver for four straight years. Calloway had receptions in a team record 47 straight games, and at the time he ranked third in franchise history with 334 receptions. He was originally drafted by Pittsburgh in 1990, but only spent two seasons with the Steelers.
In 1999 the Giants released Calloway, attempting to get younger and also save money. Calloway signed a $4 million contract with Atlanta, which was very big money at that time. He caught only 22 passes and the Falcons let him go after one season.
During training camp in 2000 Bill Belichick axed Vincent Brisby and signed Calloway. By that time though he was 32 and his best days were behind him. Calloway appeared in seven games with two starts for New England. He had only five receptions for 95 yards while with the Patriots. The Pats cut him on October 21, 2000. Calloway finished his NFL career with 386 receptions for 5497 yards and 30 touchdowns.
11/28/2009: Former New York Giants wide receiver Chris Calloway trying to hang on
Other NFL notables born on March 29 include:
Earl Campbell (62), Houston Oiler Hall of Fame running back.
Ryan Kalil (32), Carolina Panther five time Pro Bowl center.
Justin Tuck (34), two time Pro Bowl defensive end.
---
Posted Under:
Patriots Milestones
Tags:
2016 Patriots season
2017 Super Bowl
Boston Patriots
Bryan Wagner
Chris Calloway
Chris Long
former New England Patriots
Greg Moore
Jeff Fisher
Lonnie Farmer
New England Patriots
New England Patriots History
Patriots history
Pats
Pats Alumni
Reche Caldwell
St. Louis Rams
Steve Doig