Today in Pats History: Happy Birthday Justin Coleman
Justin Coleman is one of five players in New England Patriots history to share today's birth date. Here is a look at March 27 in Pats history.
Justin Coleman, 24 (3/27/1993)
Patriot CB 2015-
Uniform #22
Coleman started 38 games over four seasons at the University of Tennessee from 2011-14. He signed with the Vikings as an undrafted rookie but was cut near the end of training camp. Soon after Coleman was involved in four transactions over a six day period. The Patriots signed Coleman and then released him a day later. Seattle signed him to their practice squad. Bill Belichick apparently really liked Coleman though. With a spot available when Bryan Stork was placed on injured reserve, BB gave him a raise and signed Coleman to the 53-man roster.
In 2015 Coleman appeared in twelve games with two starts. He appeared primarily as a nickel back and was on the field for 45% of the defense's snaps. Coleman finished the season with 17 tackles and five passes defensed. He also had seven tackles in the two playoff games. The following April the Patriots signed the exclusive rights free agent to a one-year, $525,000 contract.
Coleman played a bit more on special teams last year. He participated in 292 snaps over the course of the 2016 season. With the addition of Eric Rowe however, Coleman's playing time dwindled. He appeared in only three games after the week 10 loss to Seattle and was a healthy inactive for each of the three playoff games. On March 16 Coleman signed his ERFA tender, a one-year deal for $625,000.
[embedyt] https://www.youtube.com/watch?v=loJqcg95adc[/embedyt]
David Key, 49 (3/27/1968)
Patriot Safety, 1991
Uniform #26
Key led his Ohio high school team to a state championship in 1985. Surprisingly he turned down an offer from Ohio State and instead went to Michigan. While there he collected three Big Ten Championship Rings. The Wolverines finished in the top ten three times in his four years in Ann Arbor.
The Patriots selected Key 140th overall in the sixth round of the 1991 draft. He spent most of the season on the practice squad after being released in training camp. Key was activated for the final three games, appearing exclusively on special teams. In week 15 Key recovered a fumble in a 6-3 victory over the Jets.
Key decided to no no longer pursue an NFL career after he was released again prior to the 1992 season. With a degree in kinesiology he began his second career as a personal trainer. He is the owner of Key Body & Fitness Corporation and a professional body builder.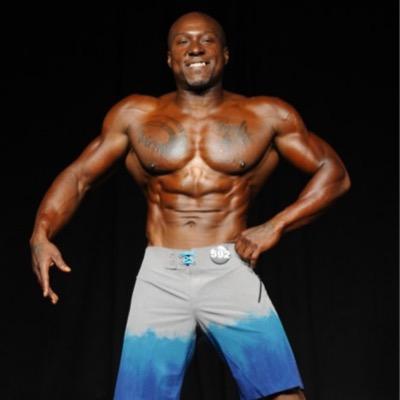 David Bavaro, 50 (3/27/1967)
Patriot LB, 1993-94
Uniform #52
The Danvers native is the brother of former Giants TE Mark Bavaro. David Bavaro was the leading tackler at Syracuse, when Dick MacPherson coached the Orange. The Phoenix Cardinals selected Bavaro with the 225th overall pick in the ninth round of the 1990 draft. After splitting time with the Cardinals, Bills and Vikings, the Patriots signed Bavaro in 1993. That season he played in twelve games, which was Bill Parcells first year with the Pats. Bavaro finished with one defensive tackle, six special teams tackles and a fumble recovery. The following year he started five games, with twelve defensive tackles.
In 1995 Bavaro signed with New Orleans as a free agent, but did not make the roster. He now teaches at Malden Catholic High School.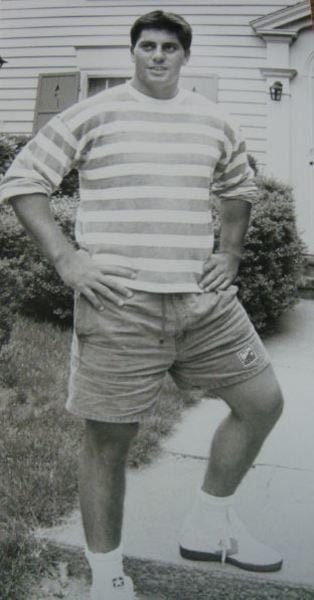 Gene Chilton, 53 (3/27/1964)
Patriot Center, 1990-92
Uniform #63
Strongman Gene Chilton was an integral part of a formidable offensive line that blocked for Earl Campbell at the University of Texas. The St. Louis Cardinals drafted Chilton in the third round (59th overall) in the 1986 draft, the first center drafted that year. He played in all 16 games and was named to the All-Rookie team, splitting time between center and left guard. The Patriots picked Chilton up in 1990 and he was their starting center before a knee injury landed him on IR. Chilton started all 32 games at center for the Pats over the next two seasons.
With knee injuries taking a toll on his body, Chilton retired in 1993. Over three seasons he appeared in 36 games for the Patriots with 35 starts.
Jerry Patton (3/27/1946-5/20/1983)
Patriot DT, 1975
Uniform #72
Patton was named MVP at Saginaw High School in not just football, but also basketball and track. He was then a three-year starter at defensive end at Nebraska. Undrafted, he played semi-pro football in the Continental Football League for two years. In 1971 Patton bucked odds and landed a spot on Minnesota's roster. He started all but one game over the next three seasons, two with Buffalo and one in Philadelphia. He appeared in the final three games of the 1975 season for Chuck Fairbanks' Patriots, but did not play in the NFL after that.
Patton then returned to Saginaw where he was active in community affairs. He was a president of the Saginaw Athletic Club, ran a Sickle Cell Celebrity Golf Tournament, organized a Midget Football League, and ran sports clinics at schools and rec centers. After a lengthy illness Patton passed away at the age of 37.
Video: Remembering Jerry Patton
Other March 27 birthdays of former NFL players include Eagle QB Randall Cunningham (54), four-time Pro Bowl MLB Mike Curtis (74) and three-time Charger Pro Bowl LG Doug Wilkerson (70).
---
Posted Under:
Patriots Milestones
Tags:
2015 Patriots
2016 Patriots season
Boston Patriots
former New England Patriots
New England Patriots
New England Patriots History
Patriots
Patriots history
Pats
Pats Alumni