Patriots History: Happy Birthday Richard Bishop, Sammy Morris
Today's installment of the history of the New England Patriot franchise includes seven birthdays. Most notable among this group for their play on the field are defensive lineman Richard Bishop and running back Sammy Morris. First though we begin with an original Boston Patriot who lived long enough to see the Pats win a Superbowl unfortunately did not quite live long enough to see the Pats win a Super Bowl.
Abe Cohen (3/23/1933-3/8/2001)
Uniform #62
Cohen attended the University of Tennessee at Chattanooga, competing on the Mocs' football and wrestling teams. In 1954 he won his conference's weight class as a wrestler. A year later Cohen was drafted late (26th round, 306th overall) by the New York Giants, but never played for them. After two years of military service Cohen spent two seasons with the Hamilton Tiger-Cats in the Canadian Football League.
In 1960 Cohen joined the fledgling American Football League with the Boston Patriots under head coach Lou Saban. Though not a starter Cohen appeared in all 14 games for the Pats that year, backing up Charley Leo and Jack Davis at guard. Cohen was inducted in to the UT-Chattanooga Sports Hall of Fame in 1990 and to his native Luzerne County (PA) Sports Hall of Fame in 1992.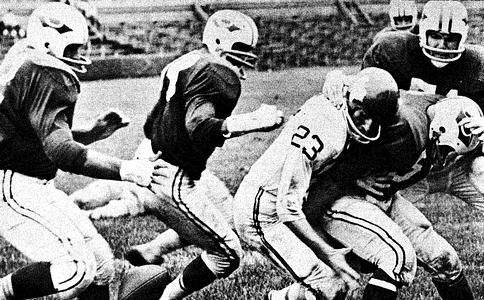 Chattanooga Football Media Guide
Bolling Air Base Wins 1957 Shrimp Bowl
Luzerne County Sports Hall of Fame
Richard Bishop (3/23/1950-9/2/2016)
Uniform #64
After high school Bishop spent two years in junior college before transferring to Louisville. He was selected in the 5th round of the 1974 draft by Cincinnati but never played for the Bengals. Bishop spent two seasons in the Canadian Football League with the Hamilton Tiger-Cats and Ottawa Rough Riders before finally signing with the Patriots as a free agent at the age of 26 in 1976.
Bishop was an impact player as a rookie, helping the Pats make the playoffs for the first time in thirteen years. He played a major role in one of the most famous (or more appropriately, infamous) plays in franchise history. That '76 team was a juggernaut, finishing the season on a six-game winning streak. The offense averaged 27 points per game and 5.0 yards per carry and the defense was equally productive, forcing 50 turnovers. The Patriots won the division made the playoffs as an 11-3 wild card team, and met Oakland in the playoffs; the Pats had pummeled the Raiders earlier in the year, 48-17.
The officiating in the game was a travesty. Oakland was permitted to get away with one non-call after another. All world tight end Russ Francis was the primary target for the Raiders. On one play George Atkinson broke Francis' nose with no flag thrown, and on another key play he was so blatantly held by Phil Villapiano that he could not raise either arm – again with no penalty called.
The non-call led to a long missed field goal with the Patriots up by four with four minutes remaining. Oakland drove but after a Mel Lunsford sack and two incompletions the Raiders were faced with a 3rd-and-18. The defensive play call was for a stunt with Bishop drawing defenders and leaving an open lane for Ray Hamilton. Ken Stabler got the pass off just as he was about to be sacked, but Ben Dreith flagged Hamilton for roughing the passer even though replays showed that was the incorrect call.
Back to Richard Bishop. He was a very solid player for the Pats, appearing in 86 games with 50 starts from 1976-81. While he is not a member of the Patriots All-Decade Team of the 1970's, to me he was good enough to earn at least an honorable mention.
In 2014 Bishop was one of fifteen players to file a federal lawsuit against the NFL for negligence and purposeful concealment of knowledge that a direct relationship existed between concussions and the development of brain diseases such as Alzheimer's, dementia and ALS. Richard Bishop passed away six months ago at the age of 66.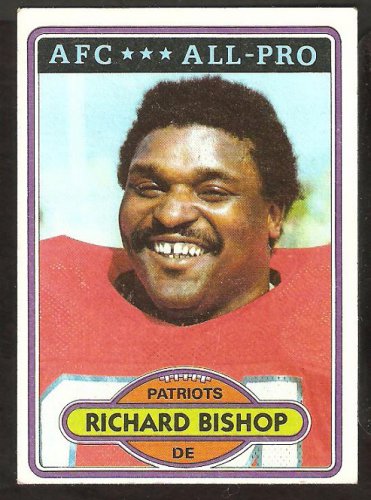 Mark Buben, 60 (3/23/1957)
Uniform #63
After an outstanding collegiate career at Tufts, the Auburn MA native remained local and joined the Patriots as an undrafted free agent in 1979. He made the roster his rookie season as a backup defensive end and special teams player, appearing in all sixteen games. After spending all of 1980 on Injured Reserve Buben again appeared in all 16 games, this time with four starts. His 49 yard interception return was a key play in New England's week 5 victory over the Chiefs, one of the few bright spots of that disappointing season for the Patriots.
Buben signed with the Browns in 1982 and then played in the USFL for four years. He still holds school records at Tufts for sacks in a single season and career.
Jason Staurovsky, 54 (3/23/1963)
Uniform #4
Staurovsky's path to becoming a kicker was unique. At the University of Tulsa he went from team manager to kicker, and he eventually set a school record with 53 field goals. Like many kickers he was not drafted and had tryouts with multiple teams. In 1987 he was signed for two games with the Cardinals as a replacement player, and a year later he was in Boston to try out for the New England Steamrollers of the Arena Football League. While there he asked for, and received a workout for the Patriots. The Pats had drafted Teddy Garcia in the fourth round but up to that point he had been awful. Raymond Berry liked what he saw – Staurovsky made 22 of his 23 attempts – but was not yet ready to pull the plug. Soon after Berry could not take any more of Garcia (he finished the season making just six out of 13 field goal attempts) and signed Staurovsky.
Greg Davis replaced Staurovsky as the kicker in 1989 but when he came down with food poisoning Staurovsky was re-signed for the last half of the season, making 14 of 17 kicks. In 1990 he finally remained on the roster for the full season – remaining upbeat despite what was happening around him – and was the sole kicker in training camp in 1991. Late in the season he pulled his quad muscle and was placed on IR. New England signed Charlie Baumann and stuck with him the following year, and Staurovsky's career with the Pats was over. In 40 games with the Patriots he kicked 50 field goals, which at that time was fourth most in team history. A 1990 50-yard field goal was the longest in franchise history at the time; that record stood for twelve years before Adam Vinatieri booted a 57-yarder in 2002.
Scott Lockwood, 49 (3/23/1968)
Uniform #40
The running back was an 8th round pick (204th overall) in 1992, which was Dick MacPherson's final year as head coach. He was mostly used on special teams, but did have 35 rushes for 162 yards (4.6 yards per carry). He appeared in two games for Bill Parcells in '93 and also spent time in NFL Europe.
For more on Lockwood, including his days at USC and his post-football career, check out this article. As is often the case with bottom of the roster players Lockwood bounced around quite a bit.
Where are they now – Scott Lockwood
"Drafted by New England in the eighth round (when they had eight rounds) after the 1991 season," Lockwood answers, "then traded to Detroit, then they waived me, picked up again by New England, then moved on to Seattle before being injured and going on IR," Lockwood says.
Wow, lots of back and forth over your career?
"That was the first eight weeks," Lockwood says with a laugh. Yes, his NFL career was an interesting, and something of a whirlwind time for the 196-pound running back and special teams guy who could fly. His best times were a 10.54 100 meters and a 4.34 in the 40.
"We could all run on those USC teams."
Sammy Morris, 40 (3/23/1977)
Uniform #34
Morris joined the Patriots in 2007 at age 30 after four years in Buffalo and three in Miami. The running back teamed with Laurence Maroney and Kevin Faulk in the Pats backfield but appeared in only six games, landing on IR with a chest injury. The following year he led the Pats in rushing yardage (727 yards) and rushing touchdowns (7), averaging a healthy 4.7 yards per carry. In 2009 Maroney received the most playing time and Morris' playing time dwindled as he had only 92 touches, gaining 499 yards from scrimmage. The following season he saw even less playing time with the additions of BenJarvus Green-Ellis and Danny Woodhead. Although he appeared in all 16 games Morris had noticeably slowed down and he had just 20 carries in his final year with the Patriots.
Sammy Morris finished with 1,486 yards rushing for the Patriots, which ranks 22nd in team history. Morris also ran for 12 touchdowns, which ranks 23rd in New England history. Over his 12-year NFL career he totaled 4,311 yards from scrimmage and 27 touchdowns. Since hanging up his cleats he has worked as a comedy writer and joined the coaching staff at Attleboro High School as the Special Teams Coordinator and Running Backs Coach.
[embedyt] https://www.youtube.com/watch?v=DnyZsby9ex0[/embedyt]
I could find only one March 24 Patriot birthday, so I will insert it here.
Don McComb, 83 (3/24/1934)
Uniform #85
Unfortunately I found very little information on McComb other than a single line in some old newspaper clippings from his college days. At 6'4″ and 240 lbs he was big for his time, but his pro career consisted of one game at defensive end in 1960 for the Patriots. Prior to that he attended Villanova and he was drafted by the Giants in the 21st round (249th overall) of the 1956 NFL draft.
Last but not least it is worth noting that on March 22, 1971 the team officially became known as the New England Patriots. For a brief period of time Billy Sullivan declared the team would be known as the Bay State Patriots, a jab at the City of Boston over failed negotiations to build a football stadium there. Problem was that Sullivan had not considered the initials of the team would be the BS Patriots, and thankfully the NFL rejected the name change. A month later the club was renamed the New England Patriots.
---
Posted Under:
Patriots Milestones
Tags:
Abe Cohen
Bay State Patriots
Ben Dreith
Boston Patriots
Don McComb
former New England Patriots
Jason Staurovsky
Mark Buben
New England Patriots
New England Patriots History
Patriots history
Richard Bishop
Sammy Morris
Scott Lockwood