Today in Patriots History: Ty Law
RVR Photos - USA TODAY Sports
Today in Patriots History
Ty Law
Happy 46th birthday to Ty Law
Born February 10, 1974 in Aliquippa, PA
Patriot CB 1974-2004; uniform #24
Patriots first round (23rd overall) selection of the 1995 draft, from Michigan
[embedyt] https://www.youtube.com/watch?v=4qA2EySdHN4[/embedyt]
The résumé speaks for itself:
Pro Football Hall of Fame, 2019
Patriots Hall of Fame, 2014
Patriots All-Decade Team of the 1990s
Patriots All-Decade Team of the 2000s
NFL All-Decade Team of the 2000s
Three-time Super Bowl Champion: 36, 38, 39
Two-time First Team All Pro: 1998, 2003
Four Pro Bowls: 1998, 2001, 2002, 2003, 2005
[embedyt] https://www.youtube.com/watch?v=da560iHuvDc[/embedyt]
New England Patriots Franchise Records:
36 career interceptions ranks 1st in Pats history (tied with Raymond Clayborn)
583 career interception return yards ranks 1st in team history
Six career pick-sixes ranks 1st in franchise history
539 career solo tackles ranks 4th
Four-time team season leader in interceptions – 1998, 2000, 2002, 2003
Only player in team history to record three interceptions in a single playoff game (January 18, 2004 off Peyton Manning vs the Indianapolis Colts)
[embedyt] https://www.youtube.com/embed/iJQ6jw309W8[/embedyt]
Playoff Stats with Patriots:
12 games played (Pats went 9-3)
4 interceptions, one touchdown, eight pass deflections; 34 tackles (31 solo)
Regular Season Stats with Patriots:
141 games played
36 interceptions, returned for 583 yards and six touchdowns
65 passes defensed, 3 forced fumbles, 4 fumble recoveries
635 tackles (539 solo), 12 tackles for a loss, 4 sacks
Led NFL in pass deflections (23) in 1993
Led NFL in interceptions (9) in 1994
Led NFL in interceptions returned for a touchdown (2) in 2001
Besides Ty Law there are a few other (less well known) Patriots born on this date.
Happy 74th birthday to Hubie Bryant
Born February 10, 1946 in Pittsburgh
Patriot PR/KR/WR, 1971-1972; uniform #45, #84
Claimed off waivers from Pittsburgh on Sept 9, 1971
In a 1971 28-20 victory versus Houston Bryant had five receptions for 79 yards – including a 10 yard TD catch from Jim Plunkett that gave the Pats a lead they never relinquished. That was the season that gave Pats fans of that era a glimmer of hope. After winning just two games the previous season the Pats finished 6-8 with the rookie Plunkett under center.
Hubie Bryant spent seven years playing professional football between the NFL, CFL and WFL. Since then he has been a coach at Virginia Union University, St. Paul College and Virginia University of Lynchburg. Bryant has been with the Pittsburgh Job Corps Center since 2015.
Happy 70th birthday to Rodrigo Barnes
Born February 10, 1950 in Waco, Texas
Patriot LB 1974-1975; uniform #59, #55
Claimed off waivers from Dallas on Nov 11, 1974
Rodrigo Barnes was a seventh round draft pick by the Cowboys in 1971, from Rice. At one time he had been projected to go much earlier than that, but his draft stock fell due to teams being wary of his being a vocal proponent of civil rights. He played in six games for the Patriots and is credited with one fumble recovery. Barnes earned a super bowl ring with the Raiders in 1976 but had to retire the following year after multiple knee injuries.
From 1979 to 1981 Barnes was a general manager and coach in the USFL. He went back to college to get his masters and has been in the education field since 1983. Rodrigo Barnes is now an assistant principal in Garland Texas.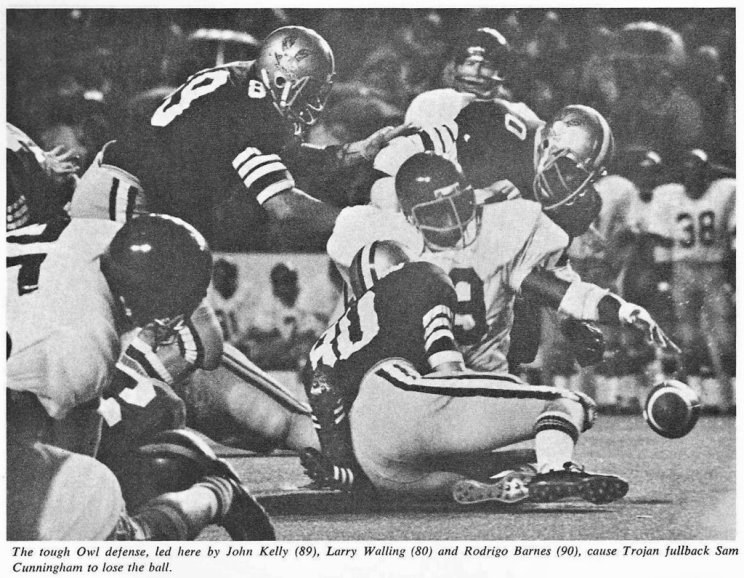 Long before Colin Kaepernick took a knee, Rodrigo Barnes raised hell and lost a career | Dallas News
Happy 71st birthday to Irvin Mallory
Born Feb 10, 1949 in Glen Allen VA
Patriot safety 1971; uniform #43
Irvin Mallory was a late draft pick by the Bengals in 1971, from Virginia Union. He played in the first two games of the 1971 season for the Patriots, with one kickoff return for 19 yards. Mallory was inducted into the Virginia Union Hall of Fame in 2010.
Other pro football players born on this date with a New England connection include:
Jim Rourke, 63 (1957)
Born in Weymouth; BC High; Boston College
Jim was an offensive tackle in the NFL from 1980 to 1988, primarily with the Chiefs.
Jim Rourke filled in for the Bengals | The Boston Globe
Jim Rourke (1999) – Varsity Club Hall of Fame | Boston College Athletics
A standout at Boston College High School, Jim Rourke continued his distinguished playing career at Boston College. A three-year starter at offensive guard/tackle, he was noted for his incredible blocking techniques. He started every game in his junior and senior seasons and was selected to play in both the Blue-Gray Game and the Senior Bowl. He enjoyed a six-year NFL career, playing six seasons with the Kansas City Chiefs and one each with the New Orleans Saints and the Cincinnati Bengals.
Elijah Wilkinson, 25 (1995)
UMass
The 6'6, 329 pound lineman went undrafted in 2017, but is now a starting guard for Denver.
Elijah Wilkinson – Football | University of Massachusetts Athletics
Ray Monaco (1918-2002)
Born and raised in Providence; Central High School in Providence; Holy Cross
Ray was an NFL offensive lineman in the mid forties.
Don Deeks (1923-1995)
Boston Yanks
The Oregon native was the 31st overall pick of the 1945 draft. He played left tackle for Boston at Fenway Park from 1945-1947, and later played for the Packers.
---
Posted Under:
Patriots Commentary
Tags:
New England Patriots History
Patriots history
Ty Law