Patriots History: March 21 Birthdays
Steve Balestrieri - PatsFans.com
It is a long slow off-season so let us commemorate the history of the Patriots' franchise with birthday salutes. Today's entries dig deep into the archives. Kudos if you remember the majority of these players.
Clyde Washington (3/21/1938-12/29/1974)
Uniform #31
The Purdue grad was drafted by the Browns in 1960, but instead played with the Patriots in their inaugural AFL season. Washington was the starting left corner, opposite Gino Cappelletti; he also filled in for four games as the team's punter. He played all but one game in the Pats' first two seasons, collecting seven interceptions.
Washington played the next three seasons for the Jets, then became their assistant director of player personnel from 1966-69. In 1970 he became an assistant coach at the University of Pennsylvania. Washington passed away too early at the age of 36 from a brain tumor in his native home town of Carlisle PA.
For more on Washington check out this article, focusing on his stellar high school career:
Local natives hit the big time playing for the NFL | History | cumberlink.com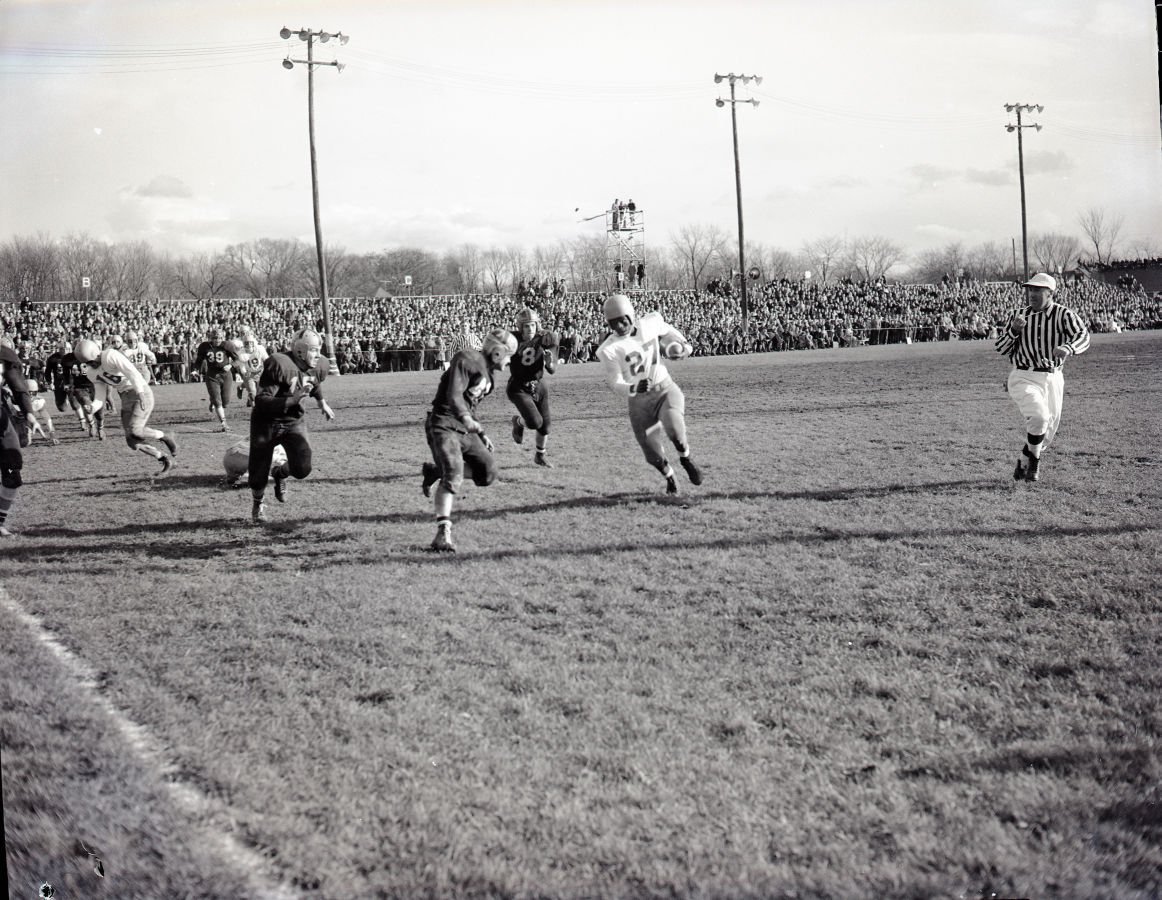 Jack Rudolph, 79 (3/21/1938)
Uniform #80
Rudolph was drafted by the Lions in 1959 out of Georgia Tech, but never played for Detroit. Except for time missed due to injury he was a Patriot starting linebacker from 1960-1965. Miami selected Rudolph as part of their expansion draft and he finished his pro football career with the Dolphins. He had some interesting comments about those days.
Rudolph recalls early days of Super Bowl | Valdosta Daily Times
"It's really enjoyable to see the teams I was an original part of having so much success now-a-days," said Rudolph.
The game was a lot different when Rudolph played. The AFL was the upstart league. It was more wide-open, with a lot more throwing, and a lot of play-making on defense. All of it was just to attract more fans to the stadiums.
Looking at the troubles expansion teams have today, can you imagine how it was to play for two of them in the 60's?
"It's hard for people to understand how it was back then," Rudolph said. "The Dolphins put 250 guys through training camp to evaluate talent. The practices were long and hard and on a make-up field. After a few weeks, everyone was getting real cut up. The doctors didn't know what was going on until someone looked at the field. The field was dirt put over seashells."
So what could a linebacker from that hard-nosed era possibly see in today's football? Is there a player today that could stand out to someone who was game-planned around so much back then.
"Almost every team has someone you can look at and say 'wow,'" said Rudolph. "The linebackers today are kind of a down defensive end and a big cornerback. It's a more specialized position."
"Back then, if you were a really good linebacker, they put you on offense!"
After his pro football career ended Rudolph went on to become one of the nation's premier high school football coaches.
Georgia Sports Hall of Fame needs a reality check | Savannah Morning News
Jack Rudolph has been overlooked for 10 years now. I'd vote Coach Rudolph in and ask the committee to apologize to the guy. He is the perfect example of a deserving honoree. Born and bred in Georgia. Competed in Georgia. Never left Georgia, except to play pro ball.
Jack was an outstanding football player at Georgia Tech. He played for the Boston Patriots and the Miami Dolphins. Upon retiring from the NFL, he joined the great Wright Bazemore's staff at Valdosta High School and remained the defensive coordinator for 31 years. Coach Rudolph could have coached on any level. He elected to settle down in Valdosta, raise a family, and coach high school ball.
Coach Rudolph's defenses helped lead the Valdosta High Wildcats to 11 state championships in 31 years. Half of his defenses allowed 7 points or less. In those 31 seasons, they allowed 8.3 points per game. Rudolph's defenses shut out the opponent 119 times. Bazemore, Charlie Greene, Nick Hyder and Mike O'Brien got most of the credit, but this man was a major reason why Valdosta High has this outstanding national reputation.
He excelled in high school, college and the NFL. He invested 31 years in high school football. Coach Rudolph impacted hundreds of young lives along the way, myself included. I learned defense from Coach Rudolph, by listening to him coach during practice. I was far ahead of the curve when I arrived at Georgia as a freshman.
If it sounds like they take their high school football seriously in Valdosta you are correct. Rudolph ended up in his wife's doghouse after his defense gave up only seven points in a loss to a crosstown rival.
Bragging Rights: The best high school football rivalries are long-running little civil wars. | Georgia Trend
It was October 1977. Rudolph, defensive coordinator for the mighty Valdosta football team, had just watched his unit play one of its best games of the season. Unfortunately, hated crosstown rival Lowndes High School was a little better that Friday night, posting a 7-2 win over the visiting Wildcats.
"That was the first time Lowndes had ever beaten us," Rudolph says. "It was a pretty big deal."
"That was always really important when I was playing and coaching," says Rudolph, who grew up in Atlanta but married a Valdosta girl, Marsha, who was a cheerleader at Valdosta High and who stared righteous daggers at her husband that October night in 1977.
"When she [my wife] got home, she had a bad look on her face, asking me why we did this and that. The whole family was really upset with me," Rudolph says. "My dog Blue jumped into my arms and licked my face, happy to see me when I got home. As the conversation with my wife went on, I said, 'I wish there was one more person in this family who loved me as much as Blue does.' So she said, 'OK, we'll get you another dog.'
Paul Gipson (3/21/1946-1/16/1985)
Uniform #46
Gipson was a standout running back for the University of Houston, averaging 6.2 yards per carry. A two-time All-American, he was a major force that resulted in the Cougars achieving their best ever season and a number two national ranking. The Atlanta Falcons selected him in the second round (29th overall) in the 1969 draft.
The collegiate success never transferred to the pros however – although to be fair the Falcons were pretty horrid at that time. In his rookie season Gipson led the NFL with 8 fumbles. He was traded to Detroit after just two seasons and landed in New England two years after that. His brief career with the Patriots was rather inglorious: five game, five carries, one fumble and a net of minus-one yard rushing.
Reading between the lines Gipson's lack of success in the NFL was likely due to substance abuse. In 1974 he stated that he was "starting all over" after battling alcoholism, playing in the inaugural season of the World Football League. In 1984 Gipson was sent to prison on drug charges. Three weeks later he was shot, and three weeks after that Gipson was found dead on a sidewalk.
UH Wins Game of the Century, 100-6 | Houston Chronicle
Houston Athletics Announces 2012 Honor Class | University of Houston Athletics
Paul Gipson Obituary | New York Times
Hason Graham, 46 (3/21/1971)
Uniform #81
In 1994 the Georgia Bulldogs possessed one of college footballs best offenses. On a team that included Terrell Davis and Hines Ward, Graham led the club that season in touchdowns, receiving yards and yards from scrimmage. At 166 pounds however most felt he was too slight to make it in the NFL. He signed with the Patriots as an undrafted rookie free agent, and made the final roster as a wide receiver.
In his second season the Patriots met Green Bay in the Super Bowl. Bill Parcells (with his mind apparently more focused on his next position with the Jets) inexplicably included Graham as part of the game day actives over Troy Brown. Parcells had more brain locks when he elected to not only kickoff to Desmond Howard, but to also include Graham as part of the kick coverage unit. Graham was predictably unable to fulfill his assignment on special teams and Howard went untouched through the lane Graham was supposed to handle en route to a 99-yard game clinching touchdown.
Graham never played another NFL game; he was cut by Pete Carroll the following August. In 19 games over two years he tallied 15 receptions for 220 yards and two touchdowns.
Hason Graham Bio | University of Georgia Athletics
Pats Cut Graham, Brown | The Standard-Times
Asante Cleveland, 25 (3/21/1992)
Uniform #44
The 6'5″ 260 lb tight end from the University of Miami was originally signed as an undrafted free agent by San Francisco in 2014. Cut at the end of training camp he bounced between the 49er practice squad (ten games) and 53-man roster (six games).
On August 18, 2015 the Patriots traded offensive lineman Jordan Devey to San Fran for Cleveland. Cleveland was cut at then end of training camp and re-signed to the Pats' practice squad. In late November he was promoted to the 53-man roster, providing depth at tight end after injuries to Michael Williams and Rob Gronkowski. Cleveland was released on Christmas Day (c'mon Bill!) and signed by San Diego three days later; he is still on the charger roster now. His final stat line with the Patriots is one reception for one yard (his only NFL catch to date) in four games played.
New England Patriots sign TE Asante Cleveland from practice squad | MassLive
Football Journey: Patriots never lost track of TE Asante Cleveland after 2014 draft | Mike Reiss – ESPN
---
Posted Under:
Patriots Milestones
Tags:
Asante Cleveland
Bill Parcells
Clyde Washington
former New England Patriots
Hason Graham
Jack Rudolph
New England Patriots
Patriots history
Paul Gipson